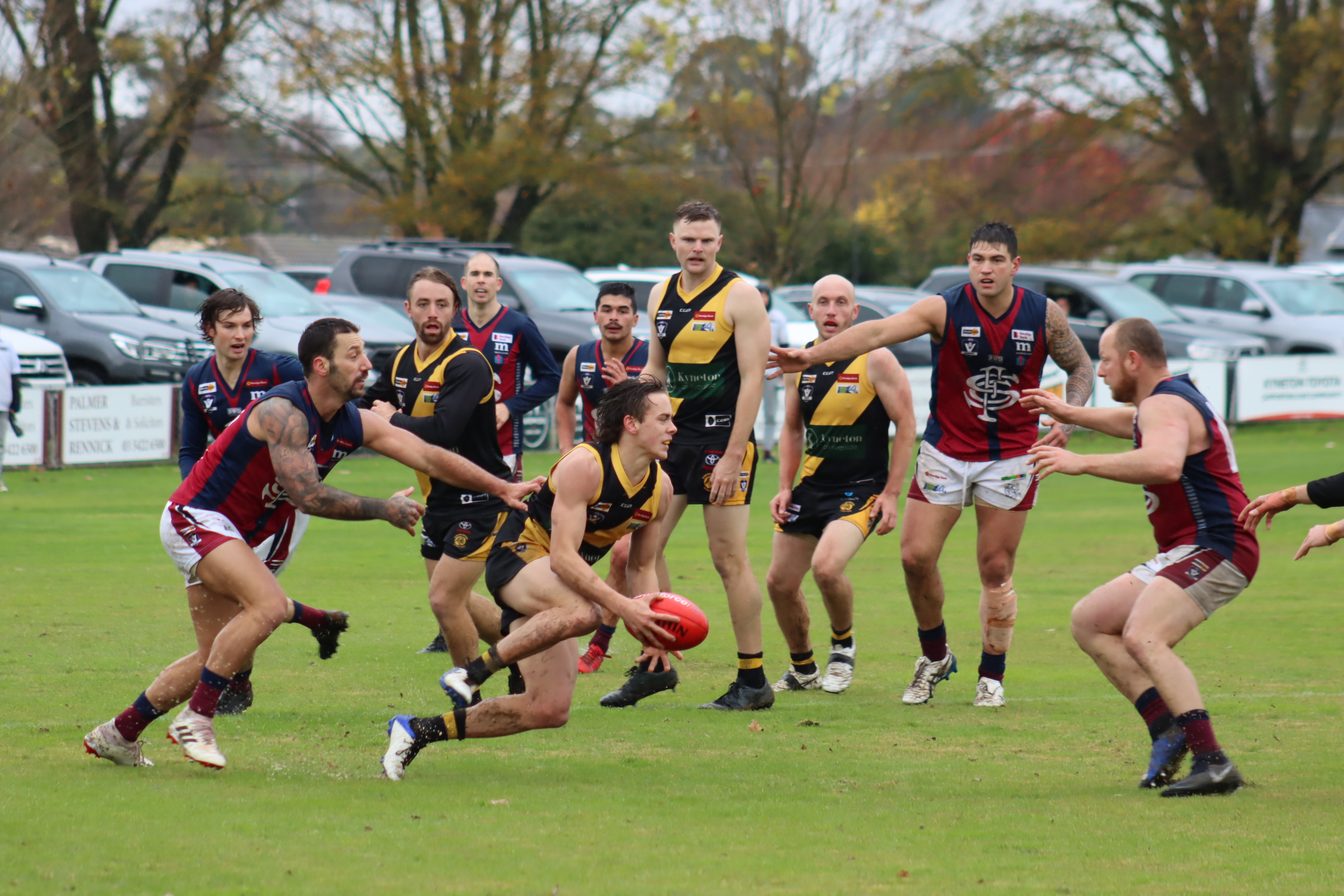 Trailing at three-quarter-time on Saturday, Kyneton and Gisborne senior footballers produced scintillating last-term efforts to overrun respective opponents Sandhurst and Golden Square in murky conditions on Saturday.

At the Showgrounds, the often inaccurate Tigers rattled home to kick five decisive goals and chalk up a fourth successive victory, increasing finals hopes for 2022.

Down south at Gardiner Reserve, the unbeaten Bulldogs rallied strongly in front of many players who turned up for a special Mega Reunion. They departed happy.

The two Macedon Ranges clubs are certainly making the strong Bendigo-based sides sit up and take notice.

Kyneton heavily promoted Saturday as the 'Rural Round' and there was widespread jubilation as the Tigers surged home, with captain and number one ruckman Jimmy Orr sidelined with a minor injury sustained at training on Thursday night.

In their last three outings, the improving Tigers have really 'stood up' against Golden Square, Eaglehawk and Sandhurst.

Sandhurst made the early running on Saturday, jumping to a four goal advantage just before quarter-time.

Both sides managed two goals in the second term, with the Tigers having plenty of the ball kicking 2.10 for the term to two straight by the opposition.

The third term, with rain falling and the temperature dropping, became a stalemate. Neither side could manage a goal.

Desperation football was required, and the Paul Chapman-coached Tigers delivered.

Four times best and fairest Rhys Magin once again proved his versatility, producing six goals out of nine to take his tally to 30 for the season.

In contrast, Sandhurst had nine individual goalkickers.

Consistent ball winners Dean Bartrop Hamish Yunghanns and Bailey McGee were instrumental in the victory.
Now the Tigers travel to play bottom side Maryborough this weekend, looking for a further boost in confidence for the matches ahead.

Kyneton 2.6, 4.16, 4.20, 9.25 (79) d Sandhurst 9.8 (62).

Goals – R. Magin 6, C. Manuel 2, B. McGee.
Best (K) – D. Bartrop, H. Yunghanns, McGee, Magin, J. Safstrom, L. Phillips. Sandhurst – H. Hosking, J. Coghlan, L. Ireland, N. Walsh, B. Holmes, L. Coghlan.
A REAL CONTEST
Gisborne withstood plenty of pressure applied early in the match, with defenders working overtime.

The home side lifted and some classy football led to five second term goals, with the outcome still wide open at the long break.

Golden Square went into the final term two points ahead, and Gisborne showed the value of having plenty of versatile players. The visitors' scoring dried up.

Ruckman Braidon Blake turned in one of his best games, and the fact the Dogs could win with ace forward Pat McKenna restricted to a solitary goal could possibly be seen as a plus.

The Dogs now travel to Eaglehawk looking to keep their record intact on Saturday.

Gisborne 1.1, 6.5, 8.6, 11.11 (77) d Golden Square 3.7, 4.10, 7.14, 8.14 (62).

Goals (G) – J. Kemp 3, M. Merrett, M. Panuccio, S. Bell-Bartels, F. Lakey, L. Ellings, P. McKenna.
Best – B. Blake, J. Owen, Panuccio, B. Bernacki, J. Normingham, L. Rogers.

Other games: South Bendigo 15.12 (102) d Maryborough 7.9 (51), Eaglehawk 9.6 d Castlemaine 9.5.

Reserves: Sandhurst 6.18 d Kyneron 7.6, Eaglehawk 13.15 d Castlemaine 2.3, Gisborne 10.3 d Golden Square 3.4, South Bendigo 16.11 d Maryborough 0.4, Strathfieldsaye 12.11 d Kangaroo Flat 4.3.

Under 18s: Golden Square 8.6 d Gisborne 6.7, Castlemaine 9.6 d Eaglehawk 7.6, Sandhurst 12.12 d Kyneton 2.5, Maryborough 15.13 d South Bendigo 3.4, Strathfieldsaye 14.12 d Kangaroo Flat 5.7.