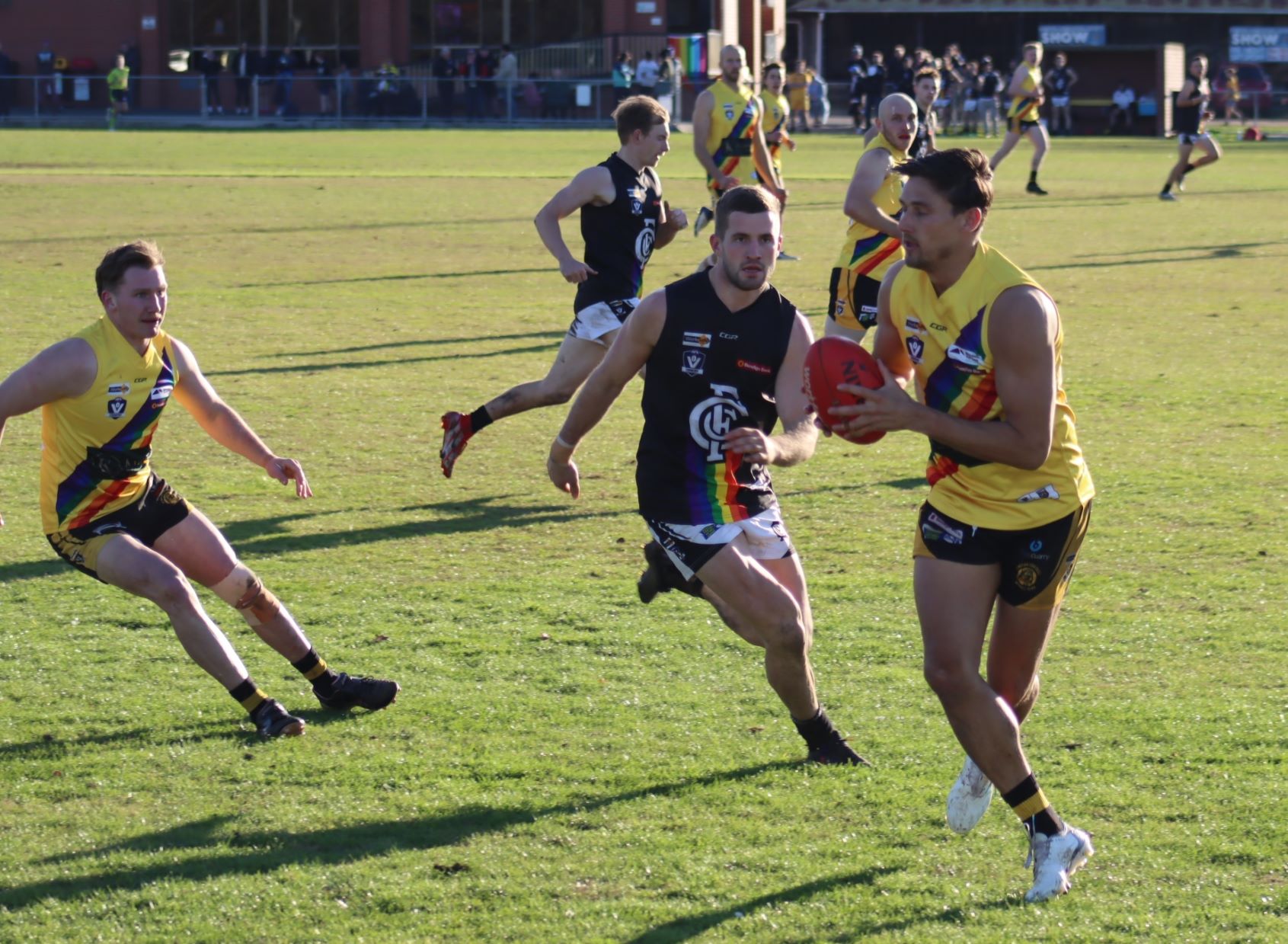 Kyneton senior footballers turned on a clinical display to overwhelm Castlemaine by 126 points on Saturday.

The sixth win in a row was highlighted by nine goals from the irrepressible Rhys Magin, and six from Guy Dickson in the Pride Round encounter at the Showgrounds.

Kyneton's victory sets up a blockbuster against ladder-leader Gisborne at Gardiner Reserve this Saturday – the Bulldogs suffering their first defeat for the season against Sandhurst at the Queen Elizabeth Oval.

On April 9, in the first round of the season, the Tigers defeated Castlemaine 18.15 to 7.6 at Camp Reserve, and they had every intent of gaining a percentage booster again on Saturday.

The Magpies fought hard but did not have the firepower to seriously challenge the Tigers on a fine, sunny day with the home crowd in full voice.

Tony Horne and Declan Slingo were great contributors for the visitors, who went to the half-time break 50 points in arrears.

The Tigers produced some inspiring football in the third term, moving the ball quickly and creating numerous scoring opportunities which resulted in nine goals.

James Gaffe was one of the prime movers in a side that has made considerable progress to be in fourth place on the Bendigo League ladder, with legitimate expectations to cement a finals berth.

To their credit, the Magpies refused to capitulate and their most productive quarter was the last, as they fought hard to kick 3.5 to double their score for the first three quarters.

Earlier, Kyneton's Reserves and Under 18s also notched up victories to further hearten supporters.

Current senior ladder (after 10 rounds): Gisborne 36, Strathfieldsaye, Golden Square 28, Kyneton 28, Sandhurst 20, Eaglehawk 20, South Bendigo 20, Kangaroo Flat 12, Castlemaine 4, Maryborough 0.

This Saturday, Castlemaine is at home to a winless Maryborough with lingering memories of a 21.10 to 12.14 victory at Maryborough in the second round of the season.
Match details:
KYNETON 4.5, 9.10, 18.14, 25.20 (170) d CASTLEMAINE 0.0, 2.2, 3.5, 6.8 (44).
Goals (K) – R. Magin 9, G. Dickson 6, M. Crozier, B. McGee, H. Sheahan 2, L. Phillips, H. Yungmanns, S. Georgio, C. Manuel.
Best – J. Gaffe, McGin, Phillips, Dickson, H. Huntley, L. Thompson.

Goals (C) – B. Keogh 3, T. Horne, L. Wilkinson, one not listed.

Best – Horne, D. Slingo, B. Josey, W. Moran, S. Nettleton, T. Hickey.

In other senior matches, Sandhurst 15.8 d Gisborne 9.7, Strathfieldsaye 11.17 d Eaglehawk 8.9, Kangaroo Flat 12.10 d Maryborough 10.6., Golden Square 21.14 d South Bendigo 6.11.

Reserves: Kyneton 21.7 d Castlemaine 3.11, Gisborne 8.9 d Sandhurst 7.7, Strathfieldsaye 6.15 d Eaglehawk 5.6, Kangaroo Flat 20.7 d Maryborough 4.3, Golden Squate 19.19 d South Bendigo 2.0.

Under 18s: Kyneton 8.6 d Castlemaine 3.11, Sandhurst 9.7 d Gisborne 5.6, Strathfieldsaye 11.9 d Eaglehawk 3.4, Golden Square 19.15 d South Bendigo 1.1, Maryborough 7.7 d Kangaroo Flat 6.12.