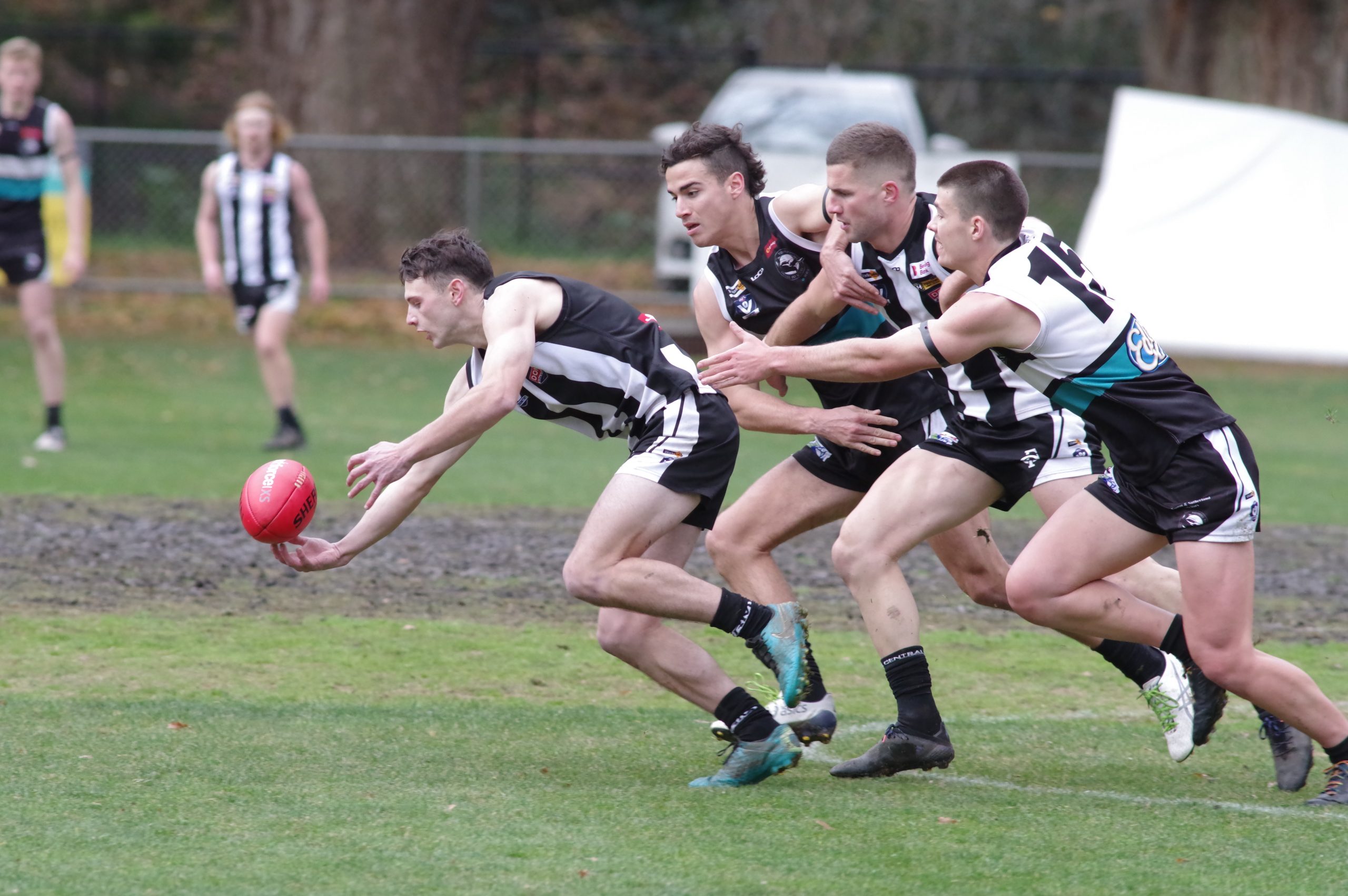 The Castlemaine Magpies welcomed their Maryborough Magpie counterparts to the Camp Reserve last Saturday in round 11 action.

The Castlemaine Seniors were looking for their second win of the season and their first at the Camp Reserve since 2017. The day also marked the 50th game milestone for Magpie senior player Sam Nettleton.

Castlemaine made a strong start in the opening term kicking five goals to three to grab a handy lead. The home side added a further two goals in the second stanza holding Borough to one and led by 23 points at half-time.

Castlemaine continued to battle hard in the second half kicking another six goals to Maryborough's five to win by 34 points.

Final scores were Castlemaine 5.3, 7.5, 11.6, 13.12 (90) to Maryborough 2.0, 3.6, 6.8, 8.8 (56).

Goal kickers for Castlemaine were Zac Denahy 6, Jack Chester, Bradley Keogh 2, Ethan, Brodie Byrne and William Moran.

Best for Castlemaine were Tommy Horne, Riley Pedretti, Jackson Hood, Zac Denahy, William Moran and Bradley Keogh.

The Reserves also had a win over a spirited Maryborough to the tune of 12 points.
Castlemaine held a narrow six-point lead after an even first quarter and the battle continued in the second term with the side trailing Maryborough by one point at half-time.

Castlemaine made the most of their opportunities in the third term kicking two goals to the Borough's one and held the visitors scoreless in the final term to claim a well-deserved victory.

The win marks the first for the side for 2022. It was great to see the boys rewarded for their hard work and persistence.

Final scores were Castlemaine 3.1, 7.2, 9.5, 10.5 (65) to Maryborough 2.2, 7.3, 8.5, 8.5 (53).

Goal kickers for Castlemaine were Kyan Martin, Mark Griffiths, Brodie Hogan 2, Kaine Fleeton and Dan Park.

Best were Oliver Daldy, Austin Peace, Dan Park, Kaine Fleeton, James Collie and Jay Hardman.

Castlemaine's Under 18s found the going tougher against an in-form Maryborough lineup. The visitors managed to get the jump on the home side in the first half, holding a 50-point lead at half-time.
To their credit the Castlemaine boys broke the shackles in the second half and put together some good passages of play to fight their way back into the contest. Despite their efforts Maryborough ran out winners by 70 points.

Castlemaine 0.0, 1.2, 3.2, 4.2 (26) to Maryborough 5.4, 8.10, 10.12, 14.12 (96).
Goal kickers for Castlemaine were Aidan Goddard 2, Ben McConachy and Callam DeBono.

Best were Alton Bracken, Ben McConachy, Matthew Schembri, Dallas Keogh-Frankling, Mitchell Langley and Thomas Langley.