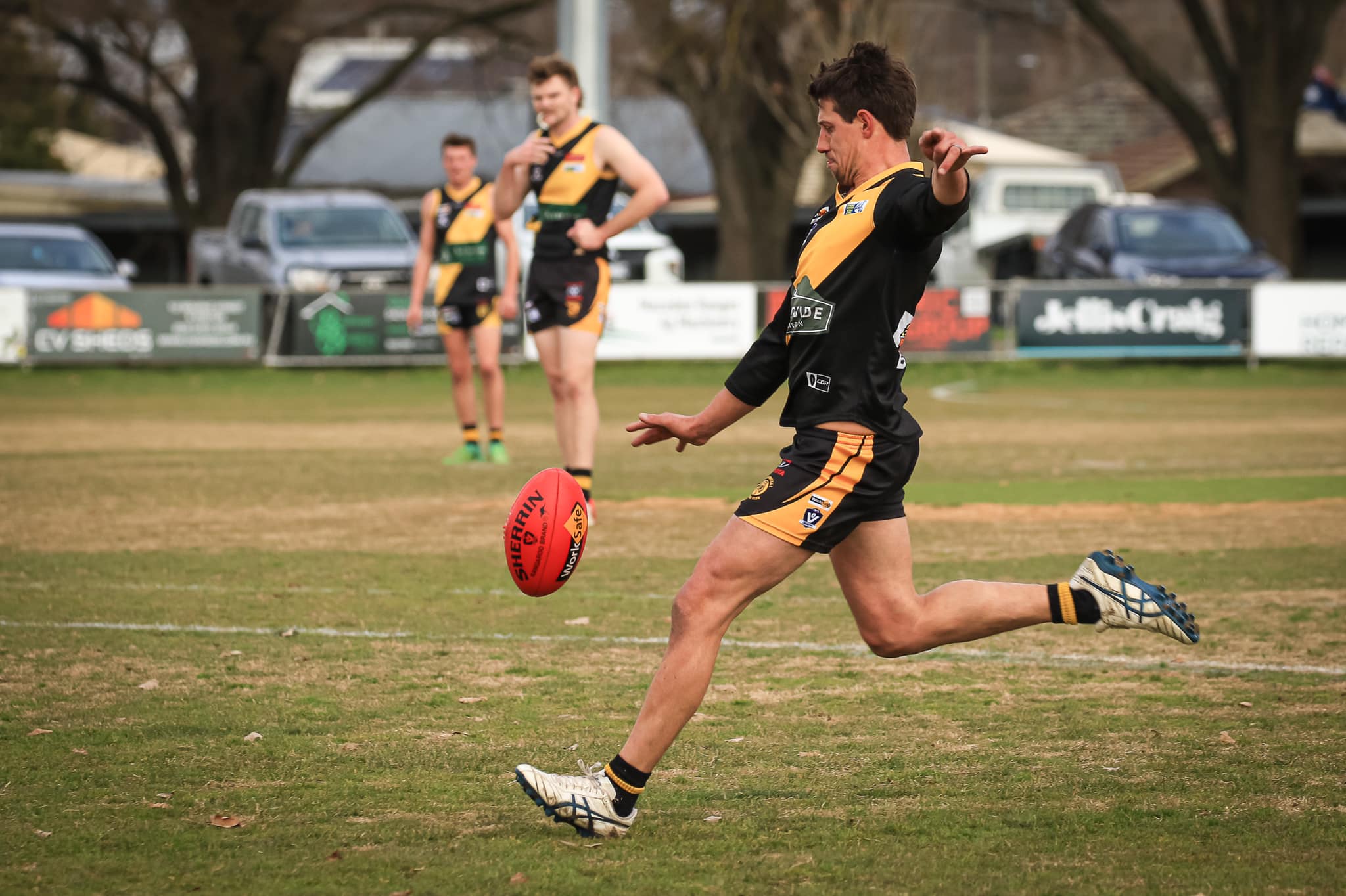 Kyneton senior footballers stayed in contention for a finals berth by defeating Kangaroo Flat by 63 points at the Showgrounds on Saturday.
Rhys Magin, one of the club's legendary players, kicked nine goals in a brilliant display and sits second on the league's goalkicking list behind Golden Square's Joel Brett with 59 for the season.
Magin also coaches the Tigers' Under 18s and he applauded the young side's great team effort, one of their best for the season to go down by seven points minus several players absent through injury and call-ups.
Now the real test lies ahead for the senior side, in sixth place on the ladder behind Eaglehawk on percentage.
The Tigers go to Golden Square on Saturday, then play Eaglehawk, Sandhurst and Maryborough to round off the home and away season.
The Tigers beat third-placed Golden Square by seven points with a great finishing effort on May 14, and will be looking for a repeat performance.
In windy conditions, Kyneton found Kangaroo Flat a persistent opponent in the early stages, before the Tigers went to the long break with a 36-point lead.
The very accurate Flat outscored the wayward Tigers in the third term, but the home side rocketed home with a seven goals to two final quarter effort to lift percentage.
Kyneton 19.24 (138) d Kangaroo Flat 11.9 (75).
Goals – R. Magin 9, C. Manuel, B. McGee 2, G. Dickson, F. Driscoll, A. Nolte, M. Crozier.
Apart from Magin, the Tigers' best were listed as defender Harrison Huntley, Bailey McGee, second-gamer Sam Pyers, Mitch Comben and Dean Bartrop.
In the Reserves, defenders dominated and goals were scarce.
Tigers' coach Jesse Grae was elated with his side's persistence, which produced a 6.7 (43) to 5.5 (35) victory.
Nicholas Tunzi, Jack Haslett, Thomas Boyer, Lachlan Read, Jacob Plowman and Jack Pilbeam were the Tigers' best.
In the Under 18s, Kangaroo Flat won 9.4 (58) to 7.9 (51), with the Tigers' best being Mitchell Wearne, Lachlan Thompson, Brady Muir, Hunter Buchanan, Charlie May and Cormac Sutton.
UNDER LIGHTS
Kyneton women's team outclassed the visiting Mount Alexander Falcons 23.25 (163) to 0.2 (2) on Saturday evening.
Goals – N. Korinfsky 5, T. Moore 4, M. Stott, J. Savioa 3, U. Van Dyk, H. Erasmus, E. Williams 2, B. Whittern, S. Prendergast.
Special award winners for the Tigers were Syke Sinclair, Marnie Love, Shannon White, Emma Williams, Bee Hately and Nikita Jameson.
Volunteers Wes, Luke, Nic, Taylor, Jaq and Tristan deserve a special mention for their efforts.