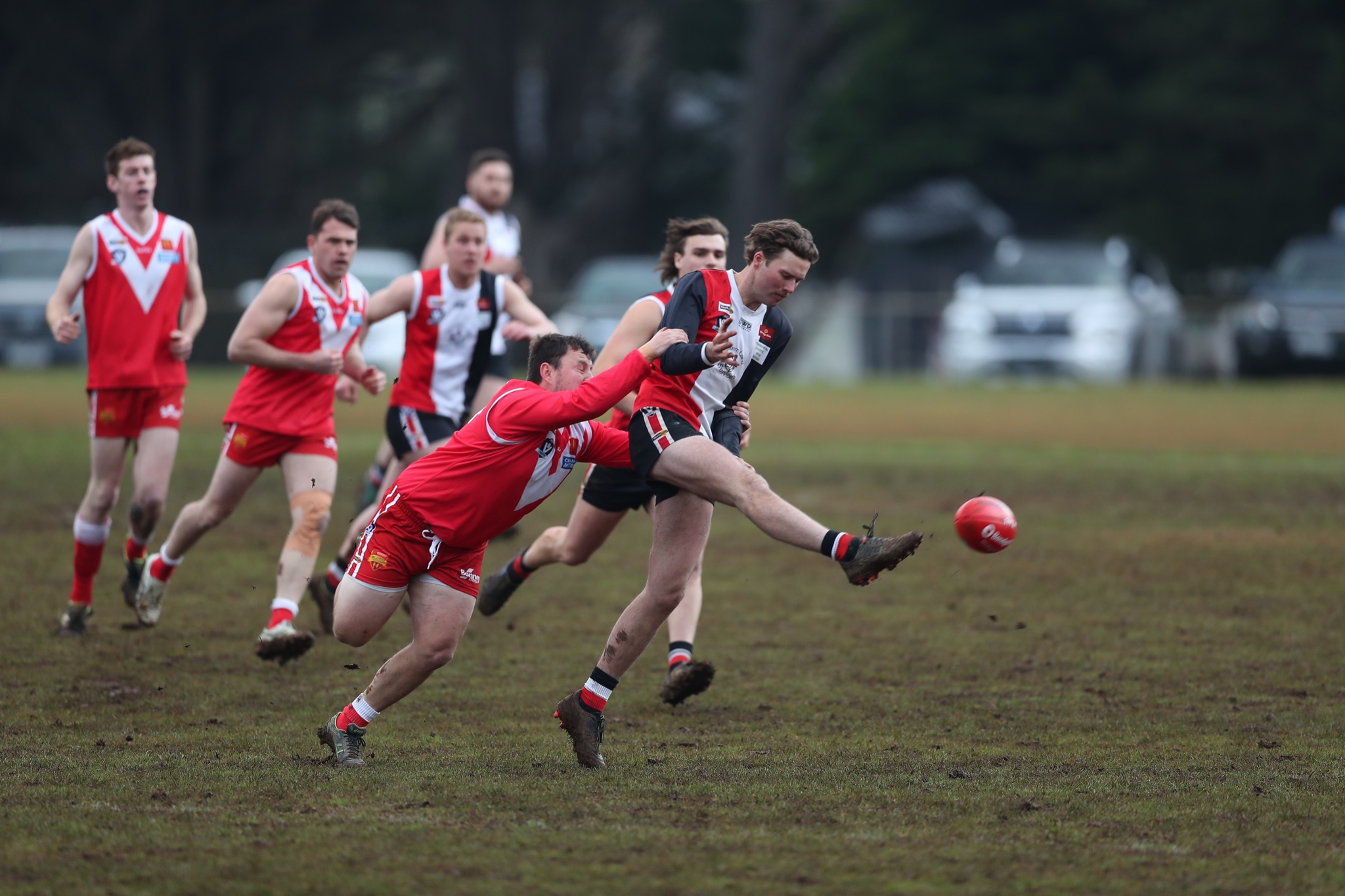 Trentham senior footballers applied themselves diligently to defeat the visiting Natte Bealiba by 21 points on Saturday.

The round 12 top-of-the-table clash was much sterner than most of the contests the Saints have faced this season, and they remain on top of the MCFNL ladder.

Conditions became wetter and muddier as the match progressed, and in the end it was a convincing win.

Trentham 8.11 (59) d Natte Bealiba 6.2(38) vs 6.2 (38).
Goals – J. Keogh 3, R. Bourke 2, J. Dovaston, D. Holden, C. Webber-Mirkin.
Best – Z. Gervasoni, J. Cowan, J. Mighell, M. Strickland, Bourke, H. Knight.

In the Reserves, the Saints achieved a percentage-boosting win for the third match in succession.

Trentham 12.11 (83) d Natte Bealiba 0.1 (1).

Goals – M. Jensen, Q. Kinnell, J. Murphy, A. Rintala, D. Reid 2, P. Aspros, S. Evans.
Best – Evans, J. Cutler, J. Beecham, Kinnell, Aspros, J. Wicker.

The Saints' U14.5s were confident and played skilfully, winning 12.18 to 1.3.

Goals – Player 4, L. Malone, D. Sutton 2, H. Kenton-Barnes, A. Shaw, F. Thompson, F. Walsh.
Best – Malone, A. Shaw, Player, Sutton, M. Shaw, Thompson.

In the U11.5s, the Saints began well with the visitors winning 6.4 to 2.5.

Goals – W. Hopper, S. Miller.
Best – Hopper, H Thompson, J. and H. Leong, J. Reid, B Holden.

NETBALL

Netball was played in wet conditions, and all players should be congratulated on their exemplary conduct on the court and around the club as well.

Illness made it difficult to fill junior teams, and the Saints' family hope all players and families are feeling better soon. It wasn't the Saint's week this week with all teams coming second best.

The visitors won all matches despite courageous efforts by many of the young Saints.

13&Under: score 37-5. Best – M. Richard. 15&U: 25-2 – K. Crocker; 17&U: 39-9 –  J. Bourke.

The C-graders went down 42-25 despite playing well at times. Best – K. Evans.

B-grade: The rain eased to a drizzle as the Swans won 48-19. K. Matheson Miller.

A-grade: Trailing by a goal at the last break, the Saints went down 44-34. B. Healy.

This Saturday the Saints travel to Maldon, anticipating good contests on the field and court.

130 YEARS TO CELEBRATE

There's a few key events ahead: The Annual Club Ball is on August 6, and on August 20 (final round) there's premiership sides' reunions and the 130 years celebrations for the club.

All past players and members are invited to come and enjoy the final game of the season.

The major raffle is now in full swing with limited tickets available for sale at the club, from senior players and around town.

All info and contacts are on the website www.trenthamsaintsfnc.com and as always watch out on social media platforms for upcoming events.