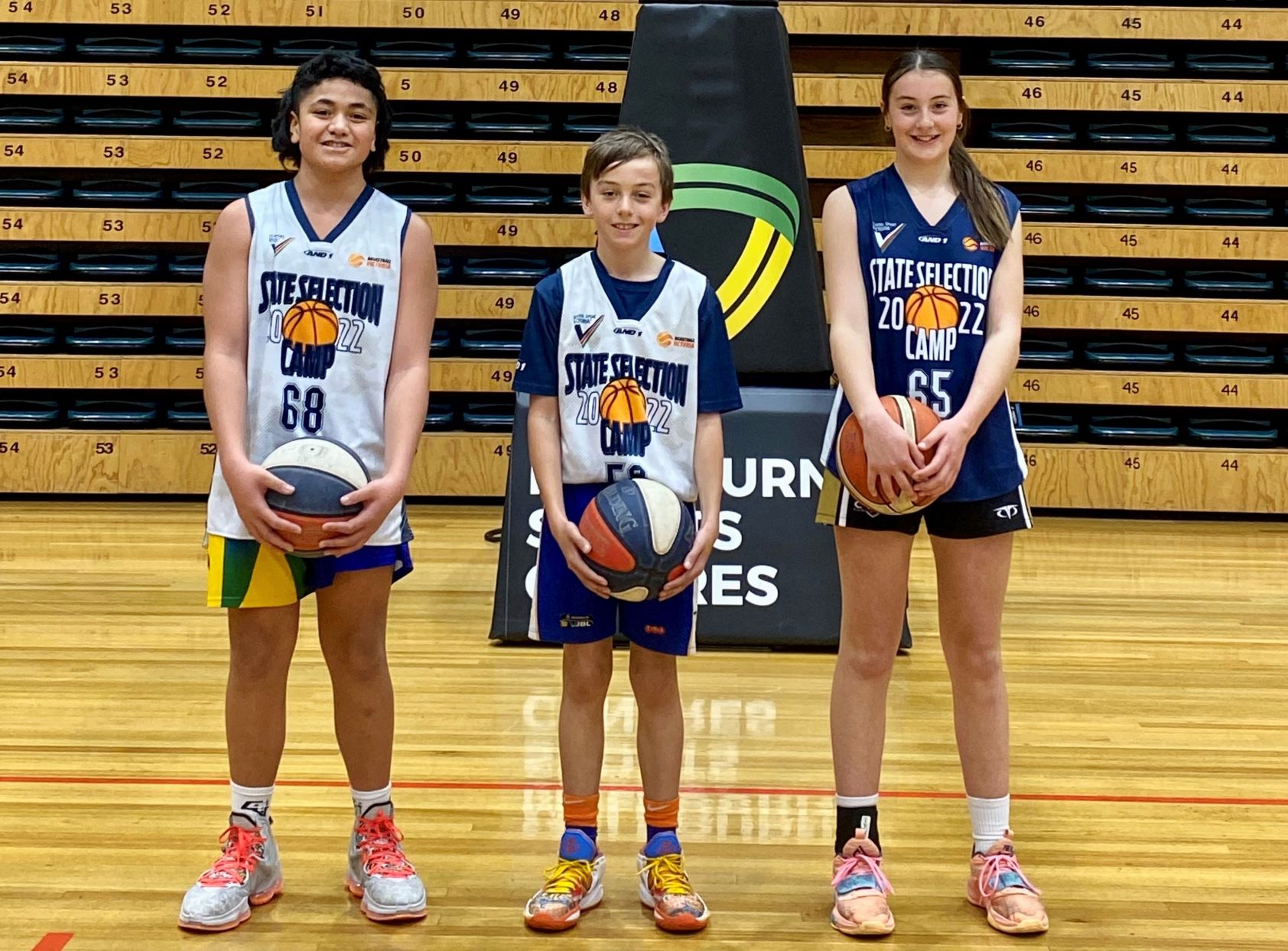 Aspiring local athletes, Arabella Dietz, Lenny Maxwell and Adrian Kiliva, are super excited to have been selected into the School Sports Victoria, 12 years and Under Basketball Vic State Teams.

The trio will compete in School Sports Australia Combined Basketball Championships, which will be held in Bendigo from August 13-19.

Many past School Sports Victoria team members have gone on to compete at national and international competitions including Olympics Games, World Championships and Commonwealth Games, so look out for these names in the future.

It all kicked off with a solid performance by all three at the regional tryouts that were held earlier in the year in Shepparton. From there, they were selected to attend a two-day intensive camp during the June school holidays in Werribee, where the top 60 girls and 60 boys across the state competed for a spot on their respective teams.

Arabella, a student at Kyneton Primary school, said it was a tough but rewarding two-day camp as she got to meet new people and coaches with a lot of competitive work each day.

"I was really tired by the end of it but felt I'd given it my best effort," she said.

Arabella started playing competitive basketball at the age of eight through KBA. She has represented the Bendigo Braves in their Div 1 U12 team, won a number of tournaments as part of the U14 CVBA and recently represented the RBA at the U14 Junior Country Champs tournament, with the team finishing third in the state.

Parents Luke and Nadene are super proud of her efforts.

"Arabella's dedication to the sport, her willingness to listen and learn from her local coaches, Michelle and Simon, is a testament to her development and confidence to put herself out there and challenge herself," Nadene said.

Lenny Maxwell who attends Gisborne Primary School is very proud to represent his school and to have the opportunity to play for VIC in the SSV team. Lenny has been aiming to make this team since he realised it was an event years ago.

Adrian Kiliva, a student at Salesian College, is looking for forward to the challenge of taking on the other states teams in Bendigo in August.

Lenny and Adrian, who are also teammates in the Sunbury Jets U14.1s VJBL team, are in their third year of playing together at the VC level, the highest grade available in VIC junior basketball.

Lenny plays domestically for Gisborne Bulldogs, Adrian for Woodend Hawks and both represented the MRBA at the recent U14 Junior Country Championships.

Sunbury's DOC Kennedy Kereama said that from an SBA standpoint they were very proud of Adrian's and Lenny's achievements and selection to the SSV team.

"It's always great to see any players hard work rewarded. Both Adrian and Lenny are very dedicated to their craft and are always spending additional hours outside of their scheduled training shooting and working on their game," Kereama said.

All the kids are excited to attend the tournament and look forward to playing in front of family and friends with the event close by this year.