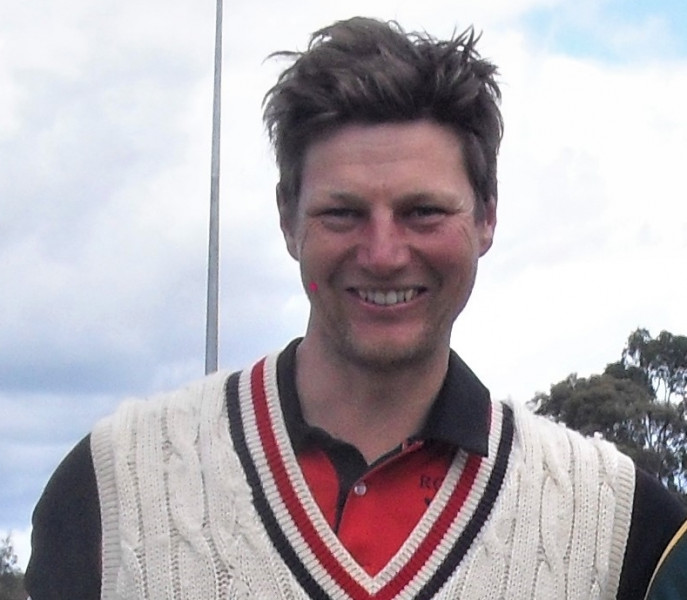 Gisborne and Romsey are the only undefeated sides after the first five rounds of one-day McIntyre Cup 1sts fixtures.

Now the GDCA tempo is about to change with two-day encounters beginning this Saturday.

Matches are: Romsey v Macedon, Woodend v Sunbury Kangaroos, Rupertswood v Gisborne, Diggers Rest/Bulla v Sunbury United.

Current ladder: Gisborne 30 points, Romsey 30, Woodend 18, Sunbury Kangaroos 12, Sunbury United, 12, Macedon 12, Rupertswood 6, Diggers Rest/Bulla 0.

WICKETS CRASH

There was an astonishing batting collapse on Saturday as Romsey's bowlers demolished a Diggers Rest/Bulla lineup for a meagre 47 in 19.5 overs.

The home side kept the Redbacks to 8/200 c.c. from 45 overs, with opener Matt Milne leading the way with 54, and Corey Day contributing 47.

Captain-coach Ben Way opted to appear at the crease very late in the innings for the reigning premiers, and is pleased with the contributions various players have made on the unbeaten run.

The Redbacks earned an early finish with their wreckers being on-target paceman Jamie Taylor with 5-12, and promoted Daniel Paterson 4/5 from five overs.

Woodend gave Gisborne a fright at Gardiner Reserve despite being bundled out for 142 from 29.1 overs. Promoted all-rounder Jamie Pettigrew top scored with 42, and Darcy Thomas snared four wickets.

Without the awesome batting presence of the Vernon brothers, Gisborne was reduced to a shaky 5/50 at one stage as Warren Else threatened to demolish the Dragons.

All-rounders Jarrod Catania and Jay King showed their worth with an unbeaten seventh-wicket stand of 49.

Last season's runners-up Sunbury United went down to Sunbury Kangaroos in an absolute thriller that saw 444 runs scored.
The Kangaroos scored the winning runs in the final over of the day – a costly loss for United.

In the remaining match, Macedon compiled 6/188 c.c. with man of the match Tim Berzins leading the way with an unbeaten 59.

The Cats managed to restrict the run flow and gain wickets at crucial stages to win by seven runs.

In McIntyre Cup 2nds, Romsey again demolished Diggers Rest/Bulla, with almost a stalemate for 32.2 overs with only 37 runs resulting, with Jack Rees claiming 5-5 from eight overs.
The Redbacks raced to victory in just three overs!

In Johnstone Shield 1sts, Riddell's key batters all got a start but they fell eight runs short of overhauling Eynesbury.

The only century on Saturday came from Aintree's Gurbeer Singh who finished 100 not out from 102 balls against East Sunbury.
GDCA SCORES
Scores from McIntyre Cup and Johnstone Shield matches completed in the Gisborne District Cricket Association on Saturday were:

McIntyre Cup 1sts: Romsey 8/200 c.c. M. Milne 54, C. Day 47, T. Dale 29 – A. McDonald 3-42) d Diggers Rest/Bulla 47 (J. Taylor 5-12, D. Paterson 4-5).
Woodend 142 (J. Pettigrew 42, M. Stewart 31 — D. Thomas 4-31) lost to Gisborne 6/143 (J. Catania 30 n.o., S. Jones 28, J. King 26 n.o. – W. Else 4-33).
Macedon 6/188 c.c. T. Berzins 59 n.o., G. De Rosayro 48 – D. McAliece 4-36) d Rupertswood 7/181 (N. Shoesmith 40, S. Van Rosy 35 – Berzins 2-26).
Sunbury United 9/216 c.c. (U. Fernando 69, J. Dillon 25, S. Perera 24) lost to Sunbury Kangaroos 4/220 (J. King 63, M. Green 54 n.o.).

Johnstone Shield: Eynesbury 9/158 c.c. (B. Shearson 46, T. Francis 37) d Riddell 9/151 (H. Johnson 39, H. Fisher 36, S. Dempsey 26 – S. Collins 4-46).
Broadford 123 (R. Nol 9/102 (R. Nolan 40 – T. Keenan 4-21) lost to Wallan 6/127 B. Vance 53 n.o. – T. Shell 3-9).
East Sunbury 101 (L. Williams 47 – A. Harkut 5-21) lost to Aintree 9/102 (A. Mehta 25).

McIntyre Cup 2nds: Rupertswood 7/204 c.c. (K. Sutherland 92, T. George 56) d Macedon 128 (I. Bobetic 31 – W. Honner 3-24).
Diggers Rest/Bulla 37 (J. Rees 5-5) lost to Romsey 0/38.
Woodend 8/151 c.c. (J. Johnston 31, B. Gardner 26,G. McDonald 24 – A. McLean 4-15) d Gisborne 118 (D. Scobell 23 – L. Collery 4-29).
Sunbury United 8/177 c.c. (A. Billinghurst 55, J. Beever 32, A. Wright 26) d Sunbury Kangaroos 9/107 (D. Falzon 3-17).

Johnstone Shield 2nds: Riddell 122 (M. Lloyd 49, M. Lindsay 28 –B. Maier 3-16) lost to Eynesbury 2/124 (K. Barrie 52 n.o., M. McMullen 34 n.o.).
Kilmore 8/157 c.c. (K. Mcnicholas 64, R. Knight 28, C. Bryant 28 – A. Pizaro 3-20) d Rupertswood 100 (Pizaro 42 – J. Squire 4-16).
Broadford 143 (C. Ball 59, L. Withers 25 n.o.) lost to Wallan 6/145 (J. Mifsud 54, M. Kilbane 31).
Aintree 5/229 c.c. (G. Singh 100 n.o., V. Sharma 45, K. Singh 41) d East Sunbury 63 (L. Wilkins 20 –V. Pka 3-13).
NOTE: No matches in the other grades in the GDCA.