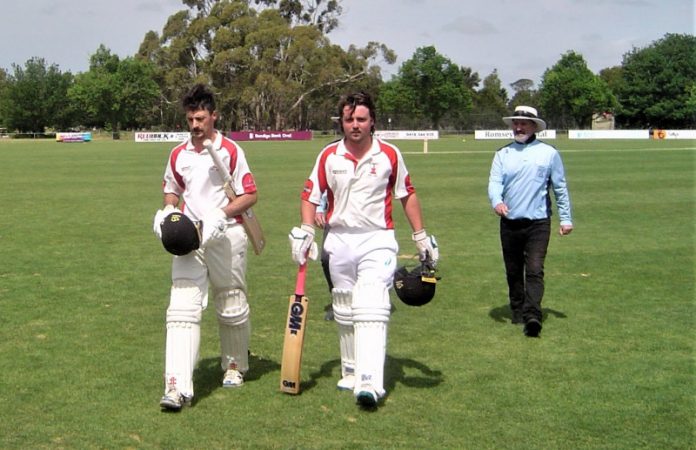 Two-day cricket encounters returned in McIntyre and Johnstone Shield 1sts and 2nds on Saturday, with Romsey and Woodend batters setting up formidable run chases on their home grounds.

Unbeaten reigning premier Romsey and an improving Woodend have sights firmly set on McIntyre 1sts finals spots at the end of the season.

At home to Macedon, Romsey received a sound start from its openers, before losing three quick wickets for the addition of just 14 runs.

When the fourth wicket fell, captain-coach Ben Way arrived at the crease, joining much-improved young all-rounder Corey Day.
They added 136 for the fifth wicket, stepping up the run rate before Way departed for a fluent 72 off 63 deliveries.

Day went on to score an unbeaten 86 to add to his 47 in the previous match and the Redbacks finished at 6/302 from 80 overs.

The prospect of facing a mean, multi-pronged attack, means Macedon will find this target extremely difficult to challenge.

Captain Marcus Stewart and co-opener Harry Lawson have been in fine form this season, and they put on 126 for the first wicket to move into a strong position against Sunbury Kangaroos at Gilbert Gordon Oval.

Lawson made 50, Stewart 73, and Andrew Cullen 56 but the Kangaroos had their moments as they fought back to restrict Woodend to 8/243.

This is a 'must win' match for the home side, and it's worth remembering the Kangaroos chased down a similar tally against Sunbury United.
All-rounder Hayden Ingleton (ex-Kyneton) is playing his first game after being sidelined by injury.

Top-of-the-ladder Gisborne is well on the way to another victory after dismissing Rupertswood for 147 in 55.2 overs with Ned Crotty's 72 offering the most resistance; Gisborne need a further 58 runs for first innings points.

Versatile skipper Jarryd Vernon claimed four wickets, and century maker Riley Vernon is at the crease with 25 to his name.
Sunbury United recovered from a shaky start to reach 238 against winless Diggers Rest/Bulla.
RUN MACHINE
Wallan captain Bryan Vance is a real run machine this season, and he continued his remarkable form in Johnstone Shield 1sts with an unbeaten 163 (18 fours) in a total of 3/328, Spencer Wittingham contributed 78.

Bowlers had a field day in the Riddell v Kilmore encounter, with 15 wickets tumbling for just 166 runs.

An ordinary 120 in 54.1 by Riddell looks good when Kilmore slumped to 5.46 by stumps.
PLENTY OF CENTURIES
A swag of centuries were scored, with five coming in McIntyre 2nds.

Woodend's Daniel Heaney finished 158 not out (18 fours) and teammate David Robinson contributed 113 as Woodend raced to 3/371 against Sunbury Kangaroos.

Sunbury United's Jayden Beever 113 and Adam Billinghurst 108 shone against Diggers Rest/Bulla, and opener Jack Rees put together 107 as Romsey reached over 300 before declaring against Macedon.

Riddell's talented Michael Day scored 118 (21 fours) from 160 balls as Kilmore paceman Brent Proctor toiled tirelessly to capture 7-42 from 20 overs in Johnstone 2nds.

Malmsbury's teams had a good day, with Mark Pruden's 89 a highlight against Romsey in Jensen 1sts.

Hanging Rock found the going tough at Lancefield, as the Tigers lost just one wicket in a run chase where Vaughan McClure and Callum Sankey both finished unbeaten in the sixties.

At Trentham, the home side slumped to 7/86 in pursuit of 142 against Melton in Jensen 3rds, and victory came as Isaac Jennings and Alex Thorneycroft added 57 runs for the eighth wicket to win with three balls remaining.

In the same grade, Lancefield held off Kyneton at the Showgrounds to win by four runs.

As grounds dry out, it appears bowlers may be in for some hard toil in the middle of summer.