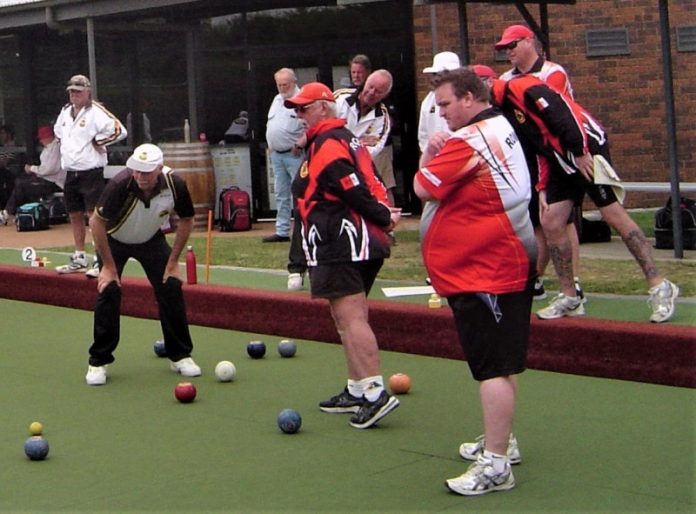 Romsey pennant bowlers accounted for arch-rivals Lancefield by 31 shots on Saturday, the biggest margin in division one.

There is a close battle for Highlands ladder supremacy after the completion of six rounds, with Kilmore a surprise leader, just two shots ahead of Romsey, with Gisborne, Kyneton Golf and Kyneton hot on their heels.

Kilmore scrambled home by three shots at Broadford in the closest division one match, and are preparing to face up to the visiting Kyneton Golf lineup in the match of the round this weekend.

In other matches Kyneton should account for Broadford, Romsey will be wary of a possible pitfall at Trentham, and Lancefield hope to hold off bottom side Diggers Rest. Gisborne has the bye.

Current ladder: Kilmore 63 points, Romsey 61, Gisborne 60, Kyneton Golf 56, Kyneton 55, Broadford 29, Lancefield 22, Trentham 22, Diggers Rest 14.
Fluctuating windy conditions did nothing to build confidence among some bowlers on Saturday.

The Romsey versus Lancefield encounter was close for quite some time, but a formidable display from Glen Gayscoyne, Lloyd Dyamond, Greg 'Squizzy' Taylor and Matt Brundell (s) produced a 34-9 margin against Bev Holmes and co.

The further this contest went, the further Brundell moved ahead to record.

Romsey expected to win at home although not at full strength, and Cam Austin prevailed by eight, while Aaron Young went down by two against Jeff Holmes, preventing a clean sweep for the Redbacks.

Visiting Kyneton Golf is always a tough assignment, and the Golf brigade prevailed by 15 hots overall with good wins by Peter Linehan and Barry Godbolt, while David Beardmore secured two points for Gisborne with a four-shot victory.

Kyneton had to work hard at Diggers Rest, and secured 15 of a possible 16 points, the Mark Smoljo quartet ending up with a tie.

Broadford pushed Kilmore right to the last end, and again showed ability to be very competitive at home.

In division two Kilmore thrashed Broadford by 43 shots, Lesley Hodgson having the biggest win of the round in this division.
Macedon, Kilmore and Romsey are virtually locked together in the battle for top spot.

Inability to field sufficient players led to Kyneton forfeiting one again in division three.

Trentham scrambled home by two shots against Woodend in a real thriller.
ALL THE SCORES

Division one scores on Saturday were:

Kyneton Golf 67 d Gisborne 50: A. Plowman 19 lost to D. Beardmore 23, B. Godbolt 23 d P. Williams 16, P. Linehan 25 d A. Higgins 11.

Romsey 73 d Lancefield 42: C. Austin 21 d A. Andrews 13, M. Brundewll 34 d B. Holmes 9, A. Young 18 lost to J. Holmes 20.

Diggers Rest 54 lost to Kyneton 63: D. Odgers 15 lost to Ant. Mathison 19, P. Treweek 17 lost to N. Jamieson 22, B. Reidy 22 drew with M. Smoljo 22.

Broadford 49 lost to Kilmore 52: D. Kelly 19 d T. Bradley 14, D. Ellis 12 lost to M. McMaster 20, P. Newell 18 drew with D. Noonan 18.
DIVISION 2
Woodend 45 lost to Romsey 63: S. Pickles 10 lost to A. Laing 25, N. Bickerdyke 24 d G. Gilligan 20, G. Symons 11 lost to N. Tessari 18.

Kyneton 60 d Diggers Rest 51: D. Fisher 19 d R. Beckett 16, M. Bermingham 17 lost to A. Icely 20, J. Wells 24 d F. Bonnici 15.

Gisborne 61 d Kyneton Golf 52: B. Wylie 33 d C. Scott 10, K. Jarred 10 lost to G. Williamson 23 d R. Newton 18 lost to J. Trounce 19.

Kilmore 92 d Broadford 39: K. Mayberry 22 d J. Bruce 20, A. Langdon 33 d W. Blackburn 10, L. Hodgson 37 d L. Barnes 9.
Ladder: Macedon 61, Kilmore 60, Romsey 59, Kyneton 48, Gisborne 44, Kyneton Golf 38, Diggers Rest 36, Broadfrd 30, Woodend 8.
DIVISION 3

Macedon 88 d Gisborne (4) 31: D. Summerfield 29 d J. Hunter 12, M. Cameron 28 d R. Paterson 11, B. Wasyl 31 d V. Cyrolo 8.

Gisborne (3) won on forfeit from Kyneton.
Romsey 62 d Kyneton 49: J. Boyce 21 d C. Wright 15, C. Dean 21 d A. Jowett 21, K. Day 20 drew with J. Breardon 20.

Trentham 61 d Woodend 59: I. Bruton 14 lost to A. Jewell 18, M. Hinneberg 24 drew with J. Behan 24, C. Pevitt 23 d T. Sturt 17.