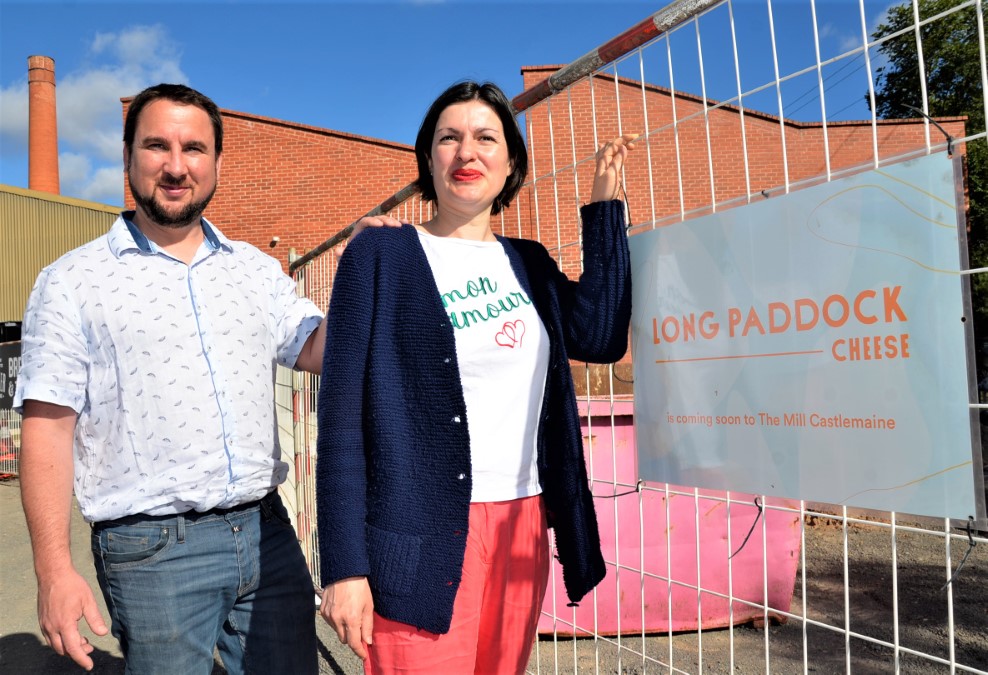 A new artisan cheesemaker and cheese school is being establishing in Castlemaine, adding an additional attraction to the town's Mill complex and tapping into newly emergent demand.
Building work is well underway to develop existing premises in the site's specialty food and beverage precinct.
The Cheese School and artisan cheesemaking enterprise – Long Paddock Cheese – is being developed by a passionate partnership team with Cheese Full Circle Pty Ltd, whose Melbourne-based director Alison Lansley is secretary of the Australian Specialist Cheesemakers Association.
A key part of the partnership team are highly experienced cheesemakers Ivan and Julie Larcher who have relocated from France to Harcourt especially to help realise the vision that looks likely to further enhance Castlemaine's reputation as a destination for artisan products and services.
Also part of the team are well-established local cheesemakers Ann-Marie Monda and Carla Meurs of Holy Goat Cheese at Sutton Grange Organic Farm.
But Ms Lansley, who has a background in corporate law, says the new top-end Long Paddock Cheese venture will use cow's milk to manufacture artisan product initially for the domestic market.
"We're going to start with two soft cheeses and two semi-hard cheeses," said Ms Lansley whose passion for quality artisan cheesemaking has led her on research missions around the world.
"We all share this vision to take Australia's artisan cheese to the next level," she says of her team.
"The idea is to start the school first through the (not-for-profit) association doing regular workshops and to set up a course initially aimed at professional cheesemakers."
Ms Lansley says the aim will be to expand training and course offerings at The Cheese School from next year to provide specialty training also for cheesemongers, cheesemakers and others interested in artisan cheesemaking.
Current building works on an existing building at the Mill to accommodate the Long Paddock Cheese enterprise – next door to Castlemaine's Shedshaker brewery – are expected to be completed by the end of June with fit-out and full commissioning of equipment expected to take a little longer.
"It will probably be October before we see the first cheeses start to come out," Ms Lansley said.
The new development comes as Australia's artisan cheese industry increasingly moves from mimicking its European counterparts, forging an identity of its own and attracting praise from cheesemongers and leaders in the culinary world.