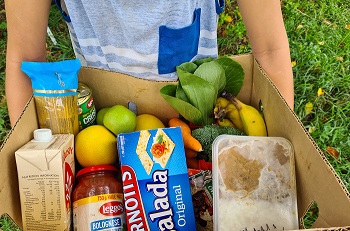 Local volunteers, community groups and organisations are working together to provide food relief for residents in need in Mount Alexander Shire.
The newly created Mount Alexander Community Pantry is a centrally coordinated food relief system that aims to provide assistance in the absence of a local foodbank.
Castlemaine Community House manager Martyn Shaddick said everyone had been impacted by COVID-19 and many people were finding it difficult at the moment.
"Some people have lost their job or regular income, and others may not be receiving the same levels of support due to things like social distancing rules," Mr Shaddick said.
Volunteers, community groups and organisations have worked quickly to set up the Mount Alexander Community Pantry to offer prepared meals and food packages.
Nalderun coordinator Kath Coff said it was time to come together as a community, a giant family.
"It's time to come together. Like we do as Aboriginal people. It is also time to adapt and deepen support for each other and focus on what is the same," Ms Coff said.
The Castlemaine Church of Christ and Maldon Community Centre have donated their space to use for storing, cooking and packing of foods, under strict hygiene standards.
Volunteers from the Church of Christ, Castlemaine Community House, CHIRP Community Health, Maldon Neighbourhood Centre, Nalderun, The Salvation Army, St Mary's Parish and St Vincent de Paul have been recruited for packing, kitchen and delivery duties.
Other organisations are providing donations or in-kind support including Bendigo and District Aboriginal Co-operative, Bendigo Foodshare, Central Victorian Primary Care Partnership, the Lions Club, Mount Alexander Shire Council, Mount Alexander Disability Advocacy Group, Rotary Second Bite and SuperCold Coolrooms.
"It's been fantastic to see so many organisations and groups come together and create this service so quickly," said Emma Shannon, CVPCP prevention and planning manager.
"The Salvation Army is used for providing food relief packages," said Captain Annita Allman from The Salvation Army.
"With an increase in demand for food relief, it is great we've been able to create a system that can be coordinated in a sustainable way for the duration of the COVID-19 crisis."
To access pre-prepared meals or food packages, contact the Mount Alexander Community Pantry intake coordinator on 0472 537 866, email mtalexcommunitypantry@gmail.com or order online at www.cch.org.au/communitypantry
Pick up can be organised from the Church of Christ on Blakeley Road in Castlemaine or delivered between 10am -1pm the following day. Please call the central number to register before attending.
Mt Alexander Community Pantry will also be operating in Maldon, with deliveries of frozen meals on Tuesdays and Fridays.
The groups are also calling on community members to donate to the new service through PayPal if they are in a position to do so.
"If you can help please call or email us for details," Ms Shannon said.