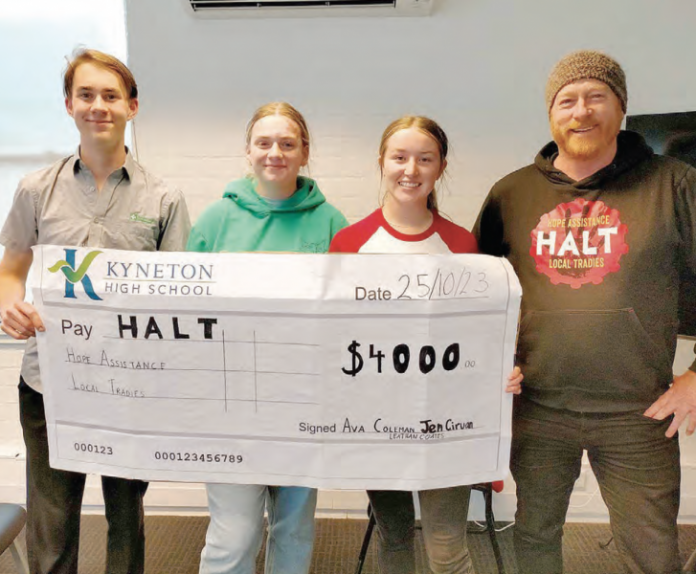 Kyneton High School student fundraising efforts will boost men's mental health in the region though local charity HALT.
A student-led community Family Fun Day at the Kyneton Rangers Soccer Club last year with men's mental health in focus raised $4000.
Year 11 students, Ava Coleman, Jen Girvan, Leathan Coates, Gabe Weller, Caitlyn Merrall and Oliver Watt, planned, organised and facilitated the successful event following their School for Student Leadership training in 2021.
Students presented the funds to HALT at a men's health workshop at Kyneton Chiropractic Life last month.
HALT founder Jeremy Forbes said the students' work and effort would save lives.
"The funds will ensure HALT continues vital work in enabling others with the tools to enable positive mental health," he said.
HALT events provide tradies and apprentices with the tools to start having conversations about mental health, and encourage tradies to support their mates when they're going through tough times.
HALT also runs a HALT-Friendly Clinics Program in order to complement their outreach work with tradies. The first of its kind, the program directly links HALT event attendees with GP and psychologist clinics in their local area that have a specific interest, knowledge and skills in men's mental health and suicide prevention.
The students' efforts will assist the charity's work in Kyneton.
If you'd like HALT to attend your workplace, club or social group would like to host an online or in-person HALT 'Save your Bacon' event, a HALT Toolbox Talk, or would just like more information on HALT, email: jeremy@halt.org.au or call 0409 756 274.
The school community is proud of the student effort, perseverance and passion demonstrated to commit to this fundraising goal.
– Article contributed by KHS students Ava Coleman, Jen Girvan and Leathan Coates.