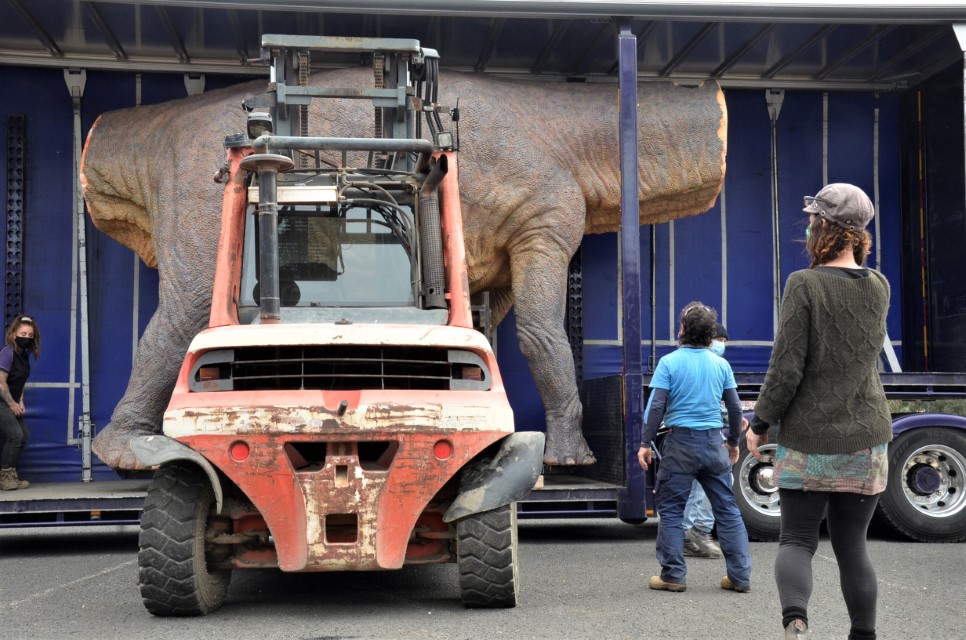 It's not every day you get to load a massive life-sized dinosaur and great white shark onto a truck.
But that's exactly what was going down in Castlemaine on Thursday as two very realistic full-scale models, that had been handcrafted in Castlemaine, were loaded onto an enclosed truck ready for transportation to Western Australia's new museum.
The big models were made by Castlemaine Natural History Productions with a team of talented local artists and crasftspeople involved.
Over several careful hours, the big models were painstakingly maneuvered onto a large Earl's Express truck, from Faraday, to be driven all the way to the new WA Museum.
There they are both set to go on long-term, prominent display with the great white hanging from the roof, enabling museum visitors to walk beneath it.
"This titanosaurus and the great white are going to be iconic exhibits at the WA Museum and they will be on display for as long as the museum's open," professional museum preparator Ewin Wood of Castlemaine's Natural History Productions said.
"It's probably one of the biggest projects we've ever done as far as the scale goes," he said of the highly specialised commission.
"Castlemaine is good for artists, technicians, and tradespeople that you can call on for help with a project like this so it's been great.
"The titanosaurus is called Marigold and the shark is called Fergal.
"It's been a long six months but sad also to bid them farewell. We're going to be making little models of sea slugs now. They're going to the WA Museum too."
Ewin said the great white and titanosaurus models were scheduled to arrive at the WA Museum tomorrow.
"And then they'll be on display by the time it opens in November," he said.
Castlemaine-based museum preparator Dean Smith worked on the project and described it as "fantastic".
"It's the biggest shark I've ever worked on – 5.5 metres long," Dean said, describing how the shark's teeth were made using casts modelled from real great white teeth, before being inserted in the massive jaw.
Castlemaine artist Nici Wright also worked on the project to make the models over the past six months.
"Unfortunately we weren't able to install them in the WA Museum because of the coronavirus and crossing the border," she explained.
"Both of the models are life-size, to scale, so the titanosaurus is 16 metres long by five metres high with 62 square metres of handmade skin surface.
"The titanosaurus is a steel structure with a high-density cut foam core that fitted like a puzzle around the steel and the shark is also a high-density foam core with a plaster skin.
"The shark has been made using a mould cast in fibreglass, so she's hollow and she has to be hung from the ceiling.
"We've definitely been living, eating and breathing this project for the past six months. It's actually been a really nice way to do COVID."
The impressive new WA Museum will open in the Perth Cultural Centre on November 21.