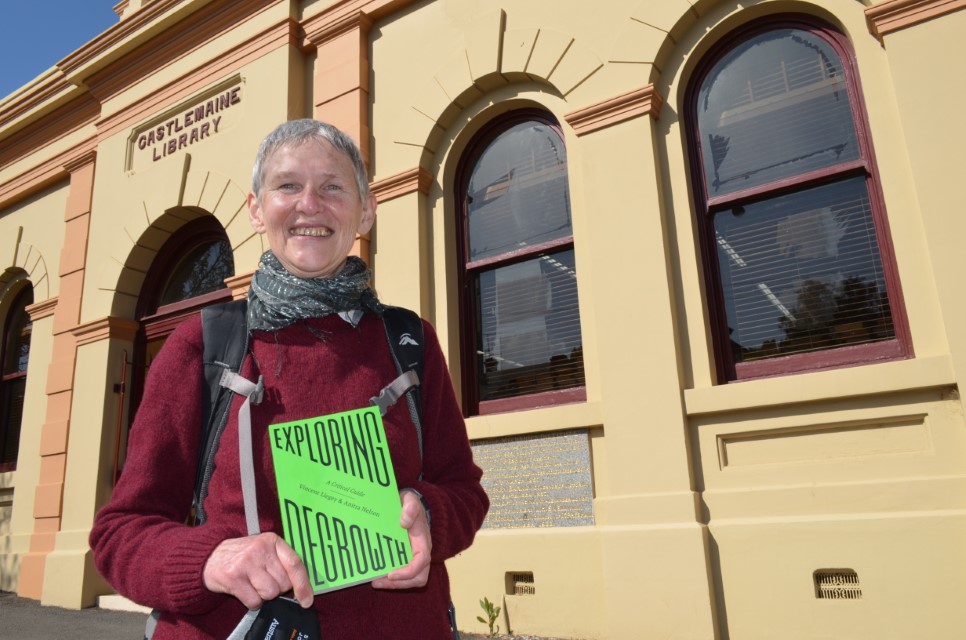 Castlemaine activist, scholar and author, Anitra Nelson, will be speaking on the topic of degrowth as part of an online event this Thursday evening.
Nelson co-wrote the new book, Exploring Degrowth: A Critical Guide, with French activist and spokesperson for the French and international degrowth movements, Vincent Liegey, who is currently living a degrowth lifestyle in Budapest. Liegey is a member of Cargonomia, a cargo bike hire and repair cooperative with a local farm using the bikes for transport and food distribution.
The book introduces the movement and degrowth activism.
Nelson said degrowth was about making an effort to cut down how much you produce and consume, and living within the earth's limits.
"It's about focusing on your needs, not wants. Living simply but richly by forming networks or collaborations and co-ops and sharing resources," she said.
Castlemaine Library is hosting the event, which will feature Nelson in conversation with fellow central Victorian degrowth advocate, Patrick Jones, on living with minimal ecological footprints locally and as a society.
Jones and his family have been living the degrowth lifestyle in Daylesford for two decades.
He has contributed a chapter to Food for Degrowth: Perspectives and Practices, another book Nelson has co-edited with Ferne Edwards that is due out in December.
Nelson's books focus on living in environmentally sustainable ways. She is affiliated with the Melbourne Sustainable Society Institute at the University of Melbourne.
Degrowth supporters subscribe to the belief of earning a basic income to provide for necessities and pooling and sharing resources to ensure there is plenty for everyone and no one has to go without.
Nelson said her last book was centred around the subject of eco-collaborative housing, whereas the latest offering, Exploring Degrowth: A Critical Guide, delved deeper into the changes people can make to live the degrowth philosophy.
She said interest in degrowth was rapidly growing as people looked for practical ways to address climate change.
Interested community members are invited to join Anitra and Patrick this Thursday October 8 at 7pm.
Visit www.eventbrite.com.au/e/degrowth-in-central-victoria-tickets-121489192445 to register. If you miss out on the live event you can catch up later on YouTube.