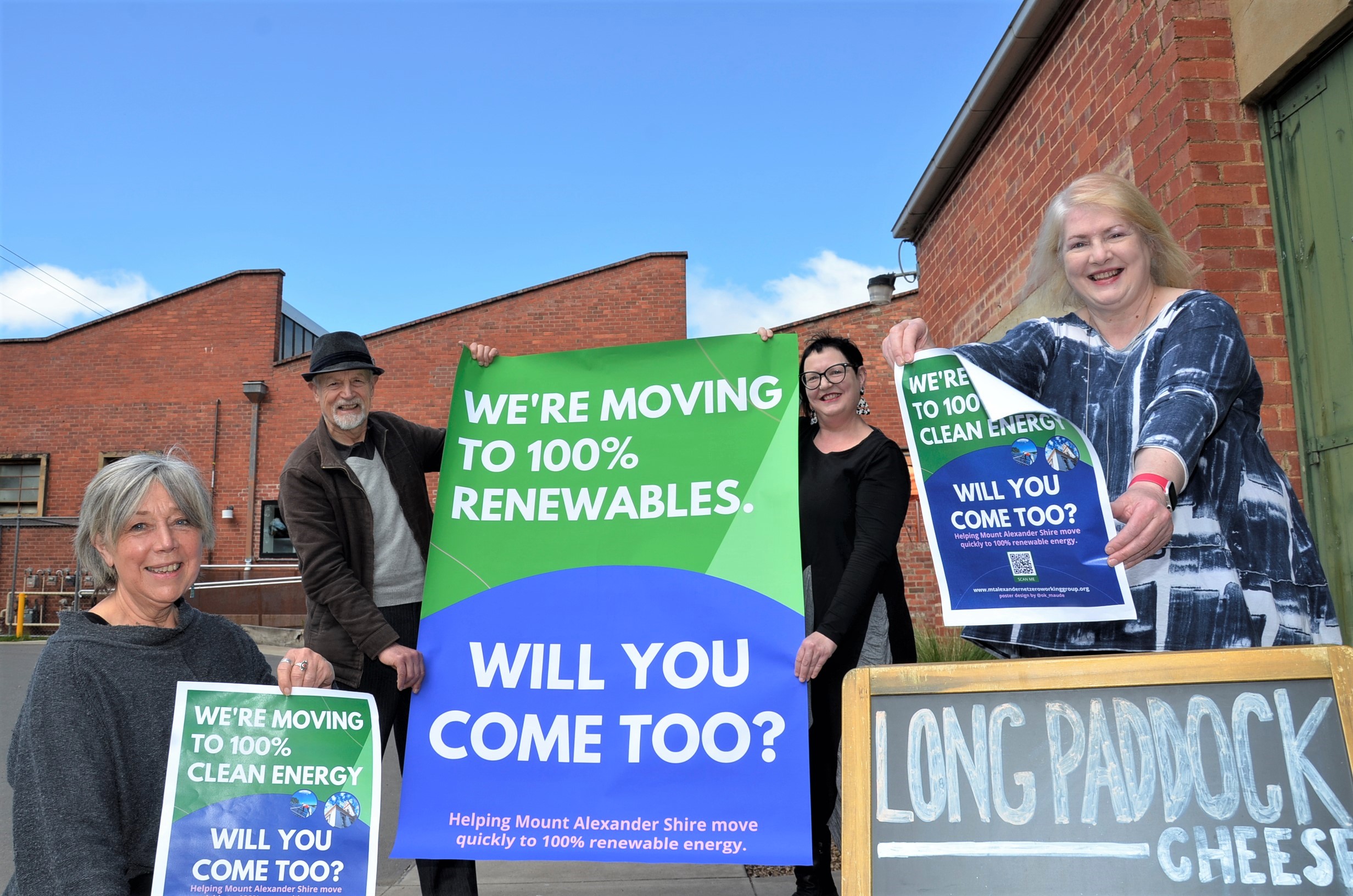 Businesses throughout Mount Alexander are being invited to join forces with others and commit to shift to 100 per cent clean energy.

The 100% Clean Energy Campaign is one of a number of new Warrarrack Initiatives emerging locally as part of growing community momentum towards taking direct action to address climate change and the threats it poses.

The Warrarrack Initiatives are being overseen by a steering group made up of members of local sustainability organisations and Mount Alexander Shire Council.

Playing a lead role, the local Zero Net Emissions Working Group is made up of members Fran Gleeson, Terry White, Heather Cummins, Simon Veitch, Alex Sansom, Frances Gall and Maree Young.

"Business and industry use approximately 70 per cent of Australia's electricity," Terry White said.

"Falling clean energy costs and rising electricity prices make moving to clean energy about the easiest and most cost-effective thing we can all do to quickly reduce emissions and help our community meet its target of zero net emissions by 2030."

The working group is inviting all local businesses to get on board between now and June 30, 2023 – "which is when the federal government 100 per cent instant asset write-off will be discontinued," Mr White said.

Between now and then, local businesses, small to large, throughout the shire are invited to make the pledge to shift rapidly to 100 per cent clean energy.

The campaign aims particularly to help local businesses and organisations avail themselves of the various subsidies, rebates, loans, bulk-buys, discounts and tax deductions currently available to help them transition to 100 per cent clean energy.

Encompassing more than 40 individual enterprises, The Mill Castlemaine is among prominent local businesses that have already swung their lot in with the shift to a clean energy future – and is not wasting time about it.

"The Mill Castlemaine expects to move to 100 per cent renewable energy at the end of this year, when our contract with the current energy provider expires," said Phil McConachy, owner of The Mill Castlemaine.

"So far we have installed 200KW of solar panels, which provides around half of the site's power needs, and we are in negotiations with a renewable supplier for the extra power we need."

Mr White said all businesses who joined in the campaign would receive an A4 poster stating: "We're moving to 100 per cent clean energy, will you come too?" to display prominently on their premises.

More information about becoming part of the campaign is available from www.mtalexandernetzeroworkinggroup.org