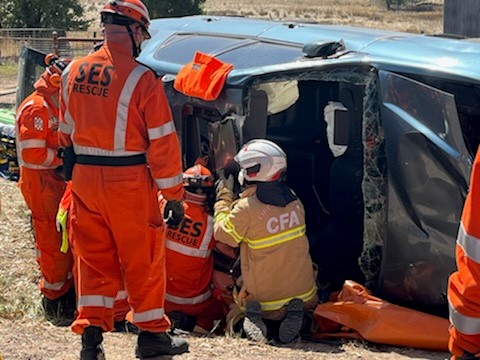 Castlemaine SES unit was called out to rescue people trapped in vehicles at two separate incidents within 36 hours of each other over the weekend.

At 14.08pm last Friday, the unit was called to an accident on Harcourt-Sutton Grange Road where a man had become trapped after his car rolled onto its side.

SES volunteers worked with Ambulance Victoria, CFA and Fire Rescue Victoria crews to cut a hole in the vehicle's roof to free the man. The driver was transferred to hospital by air ambulance.

At 1.24am on Sunday the unit was called to a second accident, this time on the Bendigo-Maldon Road near Maldon, where the driver of a truck had become trapped after his vehicle collided with a tree.

Hydraulic rescue equipment was again used to free the trapped driver who was flown to hospital by air ambulance.
Volunteers from the Maldon and CFA brigades worked alongside the SES crew and Ambulance Victoria.

"Attending two serious road crash rescues in the shire in less than 36 hours is unusual," Castlemaine SES deputy controller Daniel Bone said.

"It is a grim reminder that, as COVID restrictions ease and more people are travelling again, it is especially important that we all take extra care.

"Unfortunately, as SES and CFA volunteers we see first hand the very real impact of accidents like these all too often and we all hope it's a very long time before we are called to attend another road crash rescue."