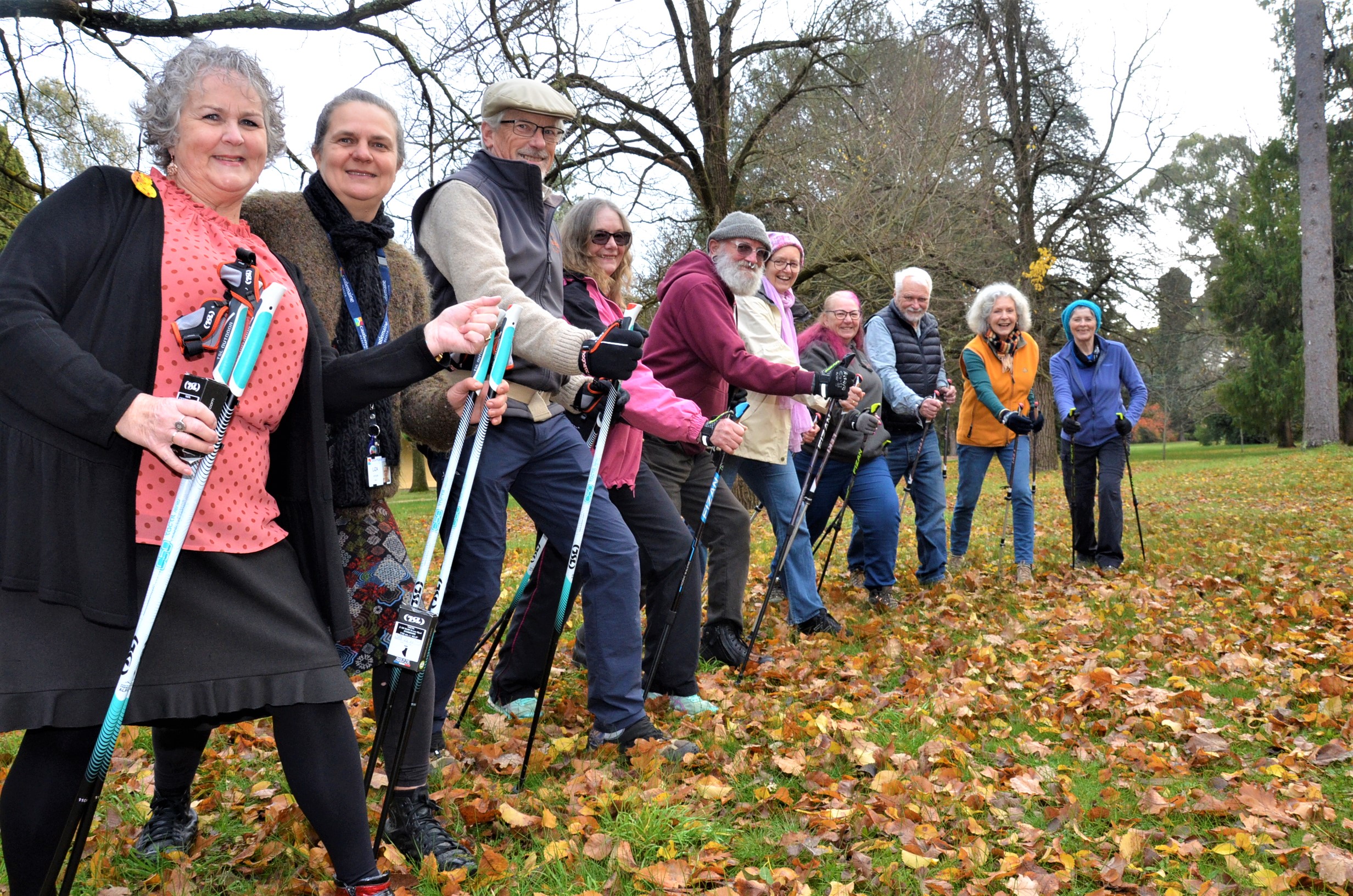 Eve Lamb
The weather may be making many feel Nordic lately, but for an increasing number of local souls that's a good thing.

In fact Nordic pole walking seems to really have hit its stride in both Castlemaine and Maldon with many keen locals picking up the poles and joining the warming weekly walking program sessions run by Dhelkaya Health.

The classes started up just before COVID struck back in 2019, and resumed earlier this year – with gusto.

But as of last Friday there's an added spring to their stride after the Castlemaine Rotary Club donated six flash new aluminium and carbon-fibre walking pole sets, worth hundreds of dollars, to the program.

"It's great to support people and organisations that support wellbeing," Castlemaine Rotary president Lyn Ellery said.

Lyn says the Rotary Club decided to support the program after members heard firsthand from a local person whose health and wellbeing were transformed for the better after she took up Nordic pole walking to help with recovery after a serious injury.

In addition to that, organisers of the popular sessions that are all led by specially trained volunteers, are about to introduce a brand-new additional after-hours option for those with day jobs to maintain.

"At the moment we have weekly volunteer-led sessions in Castlemaine and Maldon, but in spring we'll also be running sessions in Harcourt and Newstead as well," Dhelkaya Health health promotion officer Liza Shaw said.

"And in July we're also introducing a new 6.30pm evening session in the Castlemaine Botanical Gardens for workers as well."

Liza said Nordic pole walking was great for all ages but was especially beneficial for seniors or those with mobility issues as the poles helped support and distribute weight and pressure on the joints.

"The poles take some of the weight off the hips and legs and Nordic pole walking activates 90 per cent of your muscles," she said.

"And an extra five per cent if you smile," added enthusiastic Nordic pole walking volunteer leader Ruth Hay.

Spaces are limited in the walking sessions, which include technique training, and more info is available through Dhelkaya Health.