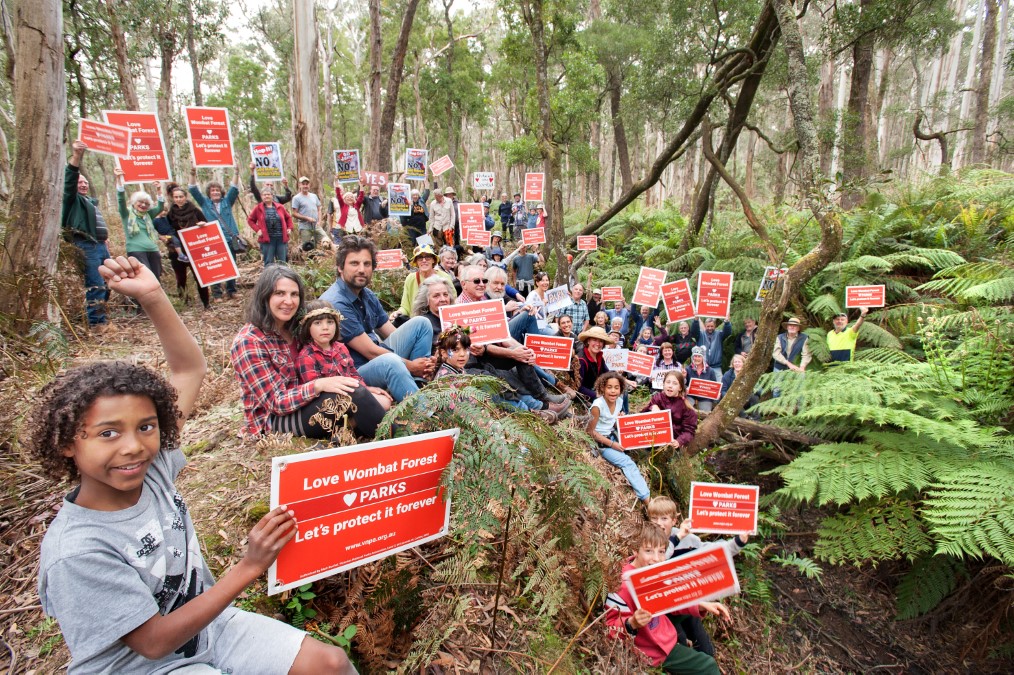 With less than a fortnight before the state election, a fight has erupted over a plan to reclassify the Wombat State Forest as a national park.
The Victorian Environmental Assessment Council has released a draft report recommending a combination of national, regional and conservation parks for the forest, stretching from Woodend to Daylesford.
The new classifications aim to provide greater protection for water catchments and high-value habitat for threatened species, but will still allow locals to walk their dogs, ride horses and camp in most areas.
However, hundreds of campaigners against the reclassification marched through Gisborne on Saturday in protest, arguing national park status would both lock them out of the forest and leave it vulnerable without intervention.
"Our concern is (the reclassification) doesn't address the current poor state of the forest, it's been left in a very poor state (after years of logging) and needs to be thinned," said Loris Duclos, one of the rally organisers.
"We have no faith that (the government) will conduct the ecological thinning required in the Wombat so it will survive the effects of climate change, which are drought and increased fire."
But ecologist and VEAC member Charles Meredith said that under any status some management of the forest would be required.
"Under national park status, the focus will be on ecological management including fire," Mr Meredith said.
"Where the trees are at high density, which is typical after timber harvesting, you would look to use two things – one would be fire management because very young trees are sensitive to fire and so you could use controlled burning to reduce the number of young trees.
"If that was not enough, you might need to look at ecological thinning."
Mr Meredith said Parks Victoria had undertaken ecological thinning work on Paddys Ranges State Park near Maryborough about 15 years ago, but the practice for Victorian forests was still in its early days.
"More research and testing for its techniques would be required before it would be considered as normal management, but it's fair to say that in the future those techniques will be developed," he said.
"There are also all sorts of other active managements not to do with tree density but to do with ecological management in national parks."
Despite the opposition to the plan, the reclassification is supported by other locals who are concerned about protecting the flora, fauna and fungi of the forest.
More than 60 Wombat Forestcare members and supporters of the VEAC proposal gathered in the forest on the outskirts of Trentham a week ago to show their support.
As of last week VEAC had received about 500 submissions to the draft report with more expected.
The report also recommends conservation and regional park status for the Cobaw, Macedon and Hepburn regions.
Submissions in response to the paper are open until December 10.