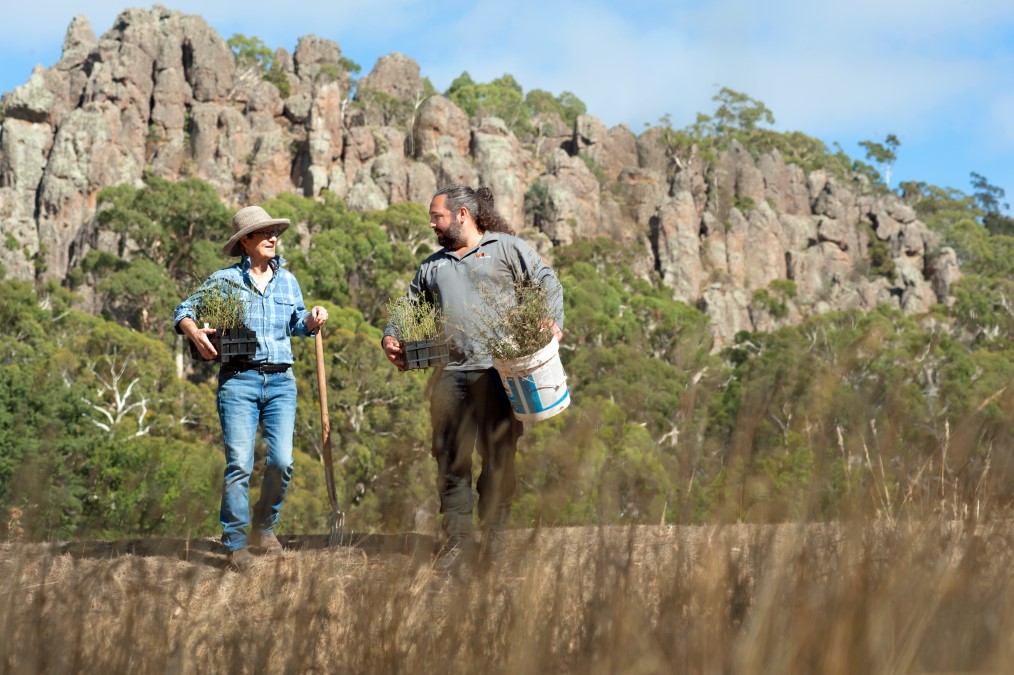 The unassuming little basalt peppercress plant, a nationally endangered species, is being given a new chance of life at the iconic Hanging Rock Reserve.
As a result of funding from the state government, Newham and District Landcare group is propagating and planting the nationally endangered basalt peppercress and the matted flax lily.
The two species are just some of over 7000 plants that are being grown and planted by volunteers as part of the Cobaw Biolink project.
Penny Roberts from Newham Landcare said the long-term aim of the biolink was to provide a habitat link between Cobaw State Forest and Macedon Regional Park.
"We are building on many years of previous past works, and it is part of a broader biolink plan with the Upper Campaspe Landcare Network, Central Victorian Biolinks and the Macedon Ranges Shire Council," Penny said.
"Human impacts over the last 150 years have resulted in a loss of biodiversity and the introduction of these endangered species back into private and public land, such as here at the Rock, is one more small step towards restoring biodiversity."
There are only two naturally occurring places the plant occurs within the shire, one on each side of Hanging Rock.
Hanging Rock environmental officer Daniel Young said it was important to acknowledge the existing populations within the Macedon Ranges Shire were vulnerable.
"It's collaborations such as this one between Newham District Landcare and council that are critical to maintaining special species such as the endangered basalt peppercress," Daniel said.
"There are challenges to sourcing these plants – it's only with proactive community involvement that projects such as these are possible. By planting the basalt peppercress at Hanging Rock – a species that almost certainly previously occurred within the reserve – we are beginning to reverse the historical biodiversity loss."
As a result of the funding, the basalt peppercress, matted flax lily and other native species are being planted on eight private properties as well as public land to help create the Cobaw Biolink.