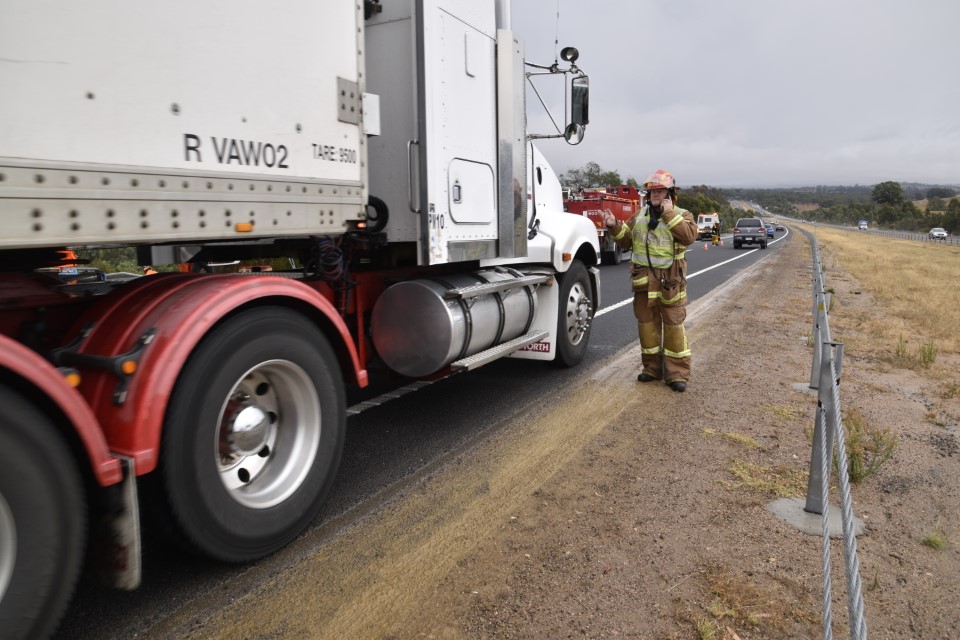 The state government's controversial roadside wire rope barrier project faces a major cost blowout and has been less effective than promised.
Victoria's auditor general has found the project is eight months late, poorly planned and maintained, and already nearly $100 million over budget.
Wire rope barriers were installed along 20 of the most dangerous highways as part of the $1 billion Safe System Road Infrastructure Program, including the Calder from Keilor Park to Bendigo, and Melbourne-Lancefield Road from Lancefield to Sunbury.
A report released last Thursday stated that while the barriers had saved lives and reduced crashes, their potential benefits had been overstated.
It said there was little evidence to support claims that the barriers reduced run-off road and head-on fatalities by up to 85 per cent and the figure was likely closer to 56 per cent.
Also in doubt was whether VicRoads had accurately identified the most dangerous roads for the rollout.
Criteria for Top 20 road selection was based on roads with a speed limit of 100km/h or above and with a daily traffic volume of 3000 vehicles of higher, and number of casualty crashes over the past five years.
"While VicRoads has data to support why it identified high-speed roads as high risk, it does not have sufficient evidence to support the relationship between traffic volume and risk," the report said.
The report found VicRoads did not keep adequate records about the project or sufficiently plan its flexible barrier installation projects under the Top 20 program.
"As a result, it is likely to spend at least 22 per cent more installing the barriers than it originally budgeted for," it said.
"Additionally, it has failed to properly maintain and monitor the barriers it installed, which increases the risk that they will not perform as intended."
The report states VicRoads has timeliness standards for responding to damaged barriers, but not conducting repairs. The average repair time is 30 days, improved from 94 days in 2015.
The Department of Transport has provided VAGO a formal response and says it has already undertaken work that addresses the relevant recommendations.
Regional Roads Victoria's chief regional roads officer Paul Northey said the outcome of a five-year evaluation due to start next year would show the full benefits of flexible safety barriers but the crash data on the Top 20 roads was already encouraging.
"Safety barriers save lives and the Victorian Auditor-General's Office report acknowledges that," Mr Northey said.
"So often we hear stories from people whose lives have been saved by flexible safety barriers. There is no price we can put on these lives being saved.
"We are encouraged by the crash data that support these stories – fewer people are dying and being seriously injured on the roads where we've installed flexible barriers."
The report acknowledges Regional Roads Victoria has already incorporated lessons learned and made improvements in the delivery of safety upgrades on a further 16 high-speed, high-risk rural roads.
RRV says it has developed more detailed project design plans for upgrades to improve oversight and improved engagement with community and stakeholders.
RRV is developing a business case for future use in line with Department of Treasury and Finance practices and a project is underway to improve the recording of barrier locations, installation dates and repairs needed.
RRV says it is also updating the standard for inspecting and maintaining the barriers and determining timeliness standards for repairs.
"Nowhere to go"
Barriers see roads shut down in emergency
Fire brigades have aired safety concerns over placement of the wire rope barriers and reduced movement around dangerous road fires and incidents.
Elphinstone Fire Brigade Captain Andy Chapman said the imposed restrictions meant almost automatic shut down of the Calder Freeway in emergency incidents.
"Accidents and fires on the Calder now get the freeway shut down," Mr Chapman said.
He said one truck fire incident saw the freeway shut down for six hours as emergency services worked to control and clean up the scene.
"I'm not going to put our members' lives at risk. There's nowhere to go off the road anymore. If there's a really involved fire you haven't got time to keep watching the traffic."
Brigades flagged problems with the distance between the edge of the traffic lane and centre median barriers on the Calder Freeway near Elphinstone not long after their installation.
Firefighters had also experienced problems in crossing to the opposite side of the freeway when tackling out-of-control fires.
VicRoads has since constructed an emergency crossover area and forward plan of how it would address other concerns, but Mr Chapman said while the barriers remained there was still risk to working emergency service volunteers that he wasn't prepared to take.
"I'm not against the wire rope barriers, but the placement has not been ideal," Mr Chapman said.
He said the wire rope barriers would have been better placed down the centre median and not on the inside road shoulder of each laneway.
Mr Chapman said the brigade would continue to work with safety at the forefront of its emergency response.
The auditor general's report into the regional road barriers, released last week, revealed VicRoads had not finalised engagement plans with stakeholders before it began installing barriers, and had limited opportunities to address any required changes before it approved the project proposal.
The emergency crossover constructed for the Calder near Elphinstone was one of two post-implementation infrastructure changes. The report stated the road authority could have saved time and money in addressing the projects ahead of time.