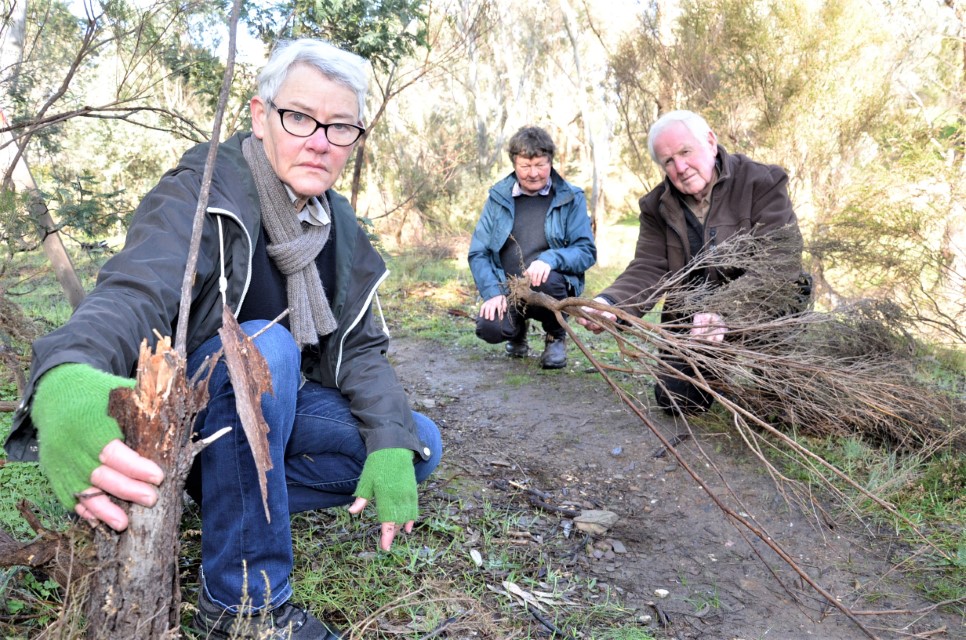 Fed up Chewton locals say they've had enough of vandalism being inflicted on treasured local walking trails and public land within Castlemaine Diggings National Heritage Park.
Residents and members of the Golden Point Landcare group say trail bikers are illegally using walking trails and other public off-road spaces in the park, churning up ground and damaging the native ecosystem.
And in the past few weeks additional flagrant destruction of native vegetation along the popular Forest Creek walking trail – leading from Chewton's Monster Meeting heritage site to Expedition Pass Reservoir – has prompted them to action, with Parks and police contacted.
"The damage by trail bikes is ongoing. Under legislation trail bikes are not permitted to use walking tracks but they have been and they're riding over vegetation," Golden Point Landcare secretary Jennifer Pryce said.
"Now there's also been some substantial vegetation clearance along the Forest Creek Trail.
"It's so extensive. It's devastating. It's broadscale clearance of understorey plants."
Another landcare group member Marie Jones said young eucalypt and wattle saplings had been snapped and lain waste alongside the walking trail.
Fellow group member, Chewton's John Ellis said Parks had been notified.
"We've contacted Parks Victoria but they had no knowledge that this is happening," he said.
"One local resident challenged a person (recently witnessed) doing it and the response was he was 'sick of getting his legs wet from the plants'."
John said police had been notified about the ongoing illegal trail bike activity within the Diggings National Heritage Park and the resulting environmental damage.
"The advice is that if you see any illegal off road activity you should immediately call triple zero or the highway patrol at Bendigo," he said.
Group members and locals who love and value the park and its walking trails say these community assets have been particularly essential to health and wellbeing during the cornavirus pandemic.
They say there's an urgent need for greater public awareness about what is and is not acceptable – or legal – within the national park.
"Native vegetation removal requires permits. And members of Golden Point Landcare are pretty upset," John said.
"The walking trail is absolutely public land and you can't just go in and clear vegetation willy-nilly," Jennifer said.
Illegal clearing of vegetation can attract fines of up to $1.1M under the state's Environment Planning and Assessment Act with additional legislation also in place to prevent such illegal destruction.
And for now these Chewton locals and landcare group members are watching.