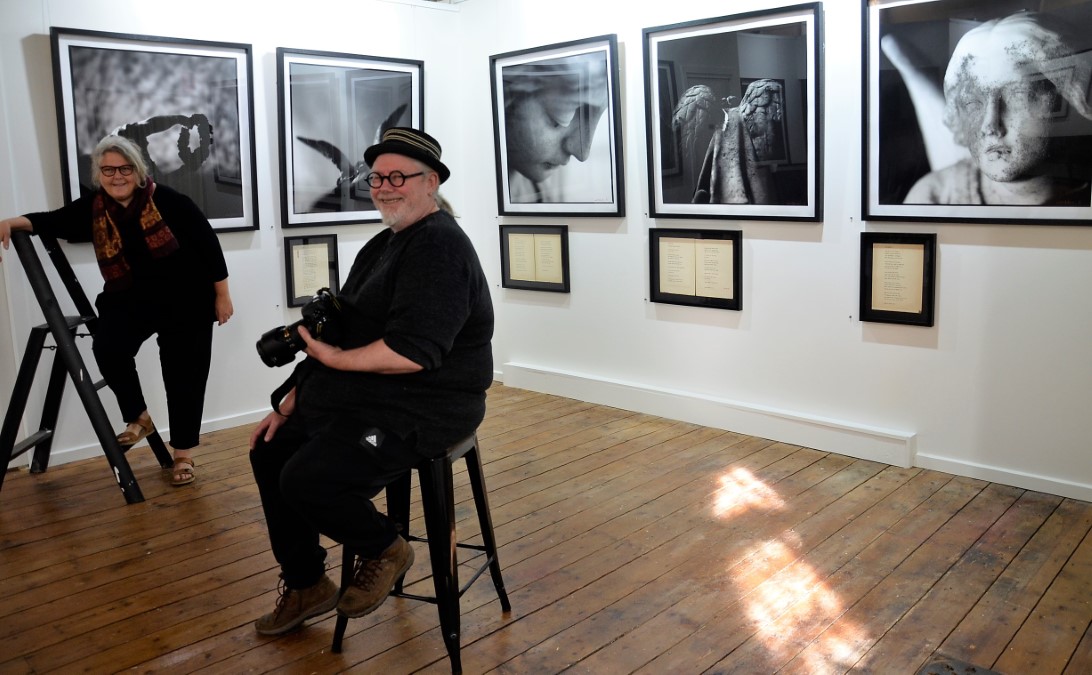 Whether you believe in angels or simply endorse the values they represent, the latest exhibition to launch at Maldon's Cascade Art gallery will likely elevate your spirit.
Launched over the weekend, Someone to Watch Over Me is subtitled The Better Angels of Our Nature and features photographic artwork by Castlemaine's Michael Wolfe in a collaboration with writer Kirsten Krauth.
Castlemaine-based Krauth has written poetry in response to Wolfe's photographs that capture images of sculptural angels in public locations ranging from St Arnaud to St Kilda.
"These really are about optimism, hope and a triumph over death," Wolfe says.
"It seems like a vain hope but it's a hope nonetheless."
Wolfe says the project, which saw him photographing imposing angels in locations including Ballarat, Bendigo, Melbourne, Chewton and Castlemaine, came about partly as a response to the troubles and turmoil witnessed in the United States under the former Trump administration last year – and the social division that involved.
"It's definitely also a COVID project and comes out of my belief that humans are fundamentally good to each other and care about each other," the artist says.
He concedes that while he personally does not belief in elegant winged and haloed beings that transport human souls to glorious, musical post-life hereafters, he certainly appreciates the values angels represent.
"The idea is about the better angels of our nature," Wolfe says and adds that his self-imposed quest to photograph angels in public places continues.
Someone To Watch Over Me is also touring to the Ballarat Photo Biennial and the Melbourne Writers Festival, and, despite Australia's current political tensions with China, it's also showing in Shanghai where proceeds are being directed to Lifeline China.
On Saturday, artist and national living treasure John Wolseley officially opened the exhibition at Cascade Art and this Saturday (May 15) offers the chance to attend a floor talk with Wolfe, Krauth, curator Jenny Long and arts journalist Suzanne Donisthorpe discussing dark beauty and the fragility of life at the Maldon venue – aptly a former church.
Bookings to the seated and catered afternoon session are essential.