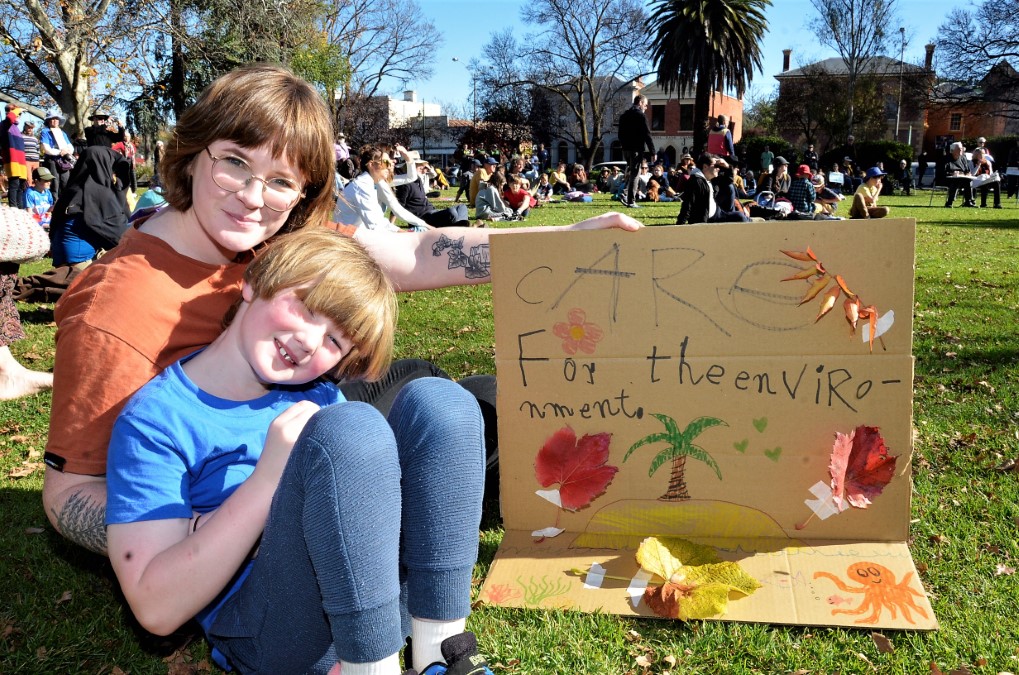 Gas was on the nose as hundreds of locals gathered in Castlemaine's Victory Park on Friday as part of nationwide protests demanding genuine climate action from the federal government.
Many more Castlemaine students and more mature residents caught public transport to Melbourne to join the estimated 5000 people who gathered at Treasury Gardens for a rally and march organised by SchoolStrike4Climate in response to this month's federal budget.

A sea of signs called on Prime Minister Scott Morrison and Treasurer Josh Frydenberg to stop funding gas and instead invest in genuine climate change solutions.
In Castlemaine speakers included Central Vic Climate Action's Bernard Tonkin who took to the podium urging the crowd to join a new campaign aimed at forcing superannuation funds to divest from financing the fossil fuels sector.
"We're encouraging everyone to write to their super funds and tell them to go fossil-free by 2025 or we're going to roll over to a committed fossil-free fund collectively and publicly," Mr Tonkin told the crowd that filled Victory Park.

The afternoon rally drew a diverse cross-section of people from the very young to grandparents who turned up with placards displaying slogans like "weapons of mass indifference – our greatest threat" and "Mars is not an option".
Speakers ranged from school children to Indigenous elder Uncle Rick Nelson to Mount Alexander Shire Council's climate officer Jodi Newcombe who outlined council progress toward achieving net zero emissions by 2030 including last week's announced sign-on to the 46-council strong Victorian Energy Collaboration.

The historic new bulk clean energy power purchasing deal is forecast to deliver 45 per cent of all participating councils' electricity requirements with 100 percent renewable power, cutting global warming emissions by 260,000 tonnes annually.
The federal government's "gas led" recovery, which runs counter to the International Energy Agency's findings that countries like Australia must transition their energy grid within 14 years to reach net zero, particularly drew condemnation from the crowd.
"This will inevitably lead to the waste of millions of dollars in stranded assets," Central Vic Climate Action's Trevor Scott told the crowd.

Riddells Creek Primary School students, supported by their parents and teachers, also joined the strike on Friday at Lions Park.
Friday's rallies come as the International Energy Agency has stated that all new fossil fuel investments and infrastructure – oil, coal and gas – need to stop immediately in order to limit warming to >1.5C.