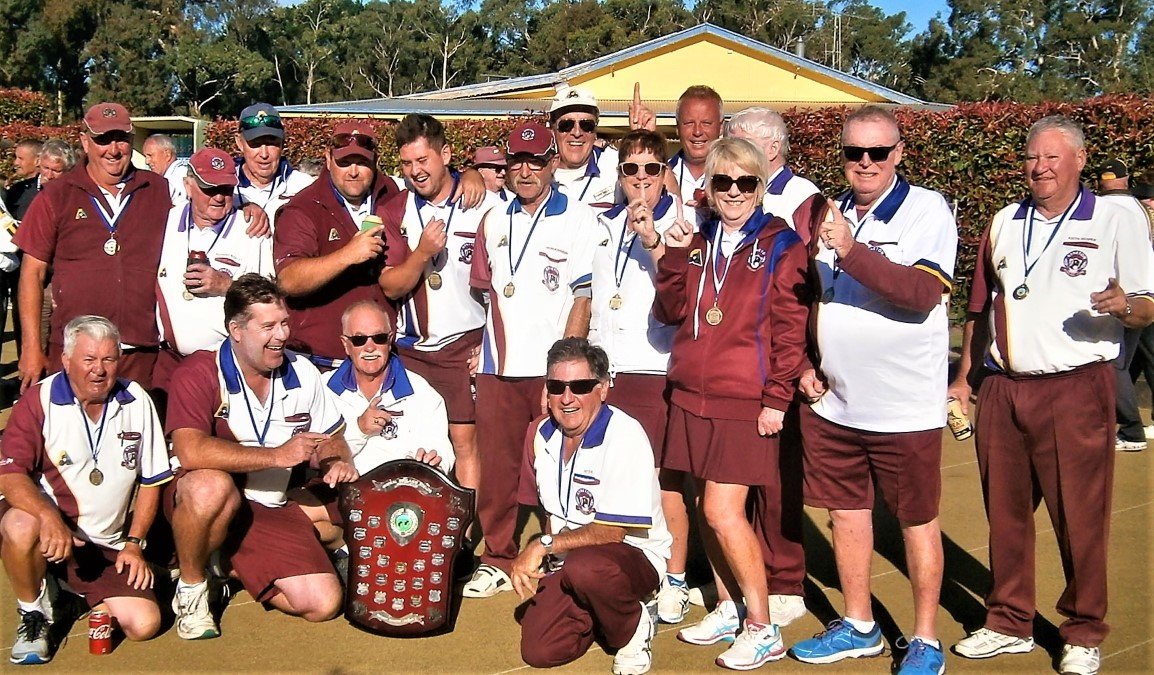 The first round of Central Highlands pennant bowls took place on Saturday, and the replay between last season's division one grand finalists Kyneton and Lancefield was an absolute thriller.
With the overall outcome in the balance with the last end to play, unflappable Kyneton skipper Mark Smoljo trailed the jack with Jeff Holmes holding three close shots. Holmes went close to rectifying the situation with his last bowl, and Kyneton ended up with a 53-51 margin.
It's three fours each team and 21 ends instead of four fours and 25 ends, with COVID-19 precautions in force.
Perfect conditions for bowls greeted game-hungry players across the three divisions.
In the other divisions one games, Romsey — the team tipped to make a real run at the finals – had all fours up against promoted Diggers Rest, with the overall margin 18 shots., and Kyneton Golf had a strong win on the grass at Gisborne with Steve Taylor's rink the stand-out.
This Saturday's second round division one matches are: Kyneton Golf v Romsey, Lancefield v Gisborne, Kyneton v Diggers Rest.
Results from Saturday were:
Kyneton 53 d Lancefield 51: A. Macdonald 17 d B. Godbolt 13, Ian Matthews 18 lost to A. Young 19, M. Smoljo 18 lost to J. Holmes 19.
Gisborne 51 lost to Kyneton Golf 63: P. Williams 20 tid with A. Barker 20, D. Beardmore 14 lost to S. Taylor 28, P. O'Farrell 17 d A. Plowman 15.
Diggers Rest 49 lost to Romsey 57. E. Nolan 15 lost to G. Templar 18, R. Reidy 15 lost to C. Austin 27, M. Clohesy 19 lost to M. Brundell 22.
DIVISION 2:
Woodend 52 lost to Kyneton 62. M. Dornau 19 d M. Robertson 18, T. Sturt 18 lost to D. Knight 19, N. Jamieson 15 lost to J. Wells 25.
Romsey 47 lost to Gisborne 55. G. Prichard 17 lost to R. Newton 18, B. Groom 13 lost to M. Wilson 24, R. Kozolins 17 d R. Paterson 13.
Macedon 67 d Lancefield 43: I. Guymer 19 d S. Climas 17, Gayle Hobbs 29 d G. Charles 7, R. Stapleton 17 tied with S. Holmes 17.
Kyneton Golf 70 d Trentham 43: G. Williamson 29 d M. Mtricardi 16, J. Trounce 21 d M. Bruton 10, C. Schmidt 20 d C. McKeone 10.
DIVISION 3:
Gisborne 81 d Macedon 34. T. Woodlock 18 d M. Cameron 16, R. Black 31 d A.Baldock 9, J. Hunter 36 d M. Keenan 9.
Romsey 52 lost to Woodend 60: I. Hendrickson 24 d R. Tadd 23, C. Dean 14 lost to L. Scott 18, J. Boyce 14 lost to N. Bickerdyke.
Gisborne2 50 lost to Trentham 60: T. Watson 25 d P. Love 17, R. James 11 lost to D. Walsh 19, P. Wellington 16 lost to C. Pevitt 24.