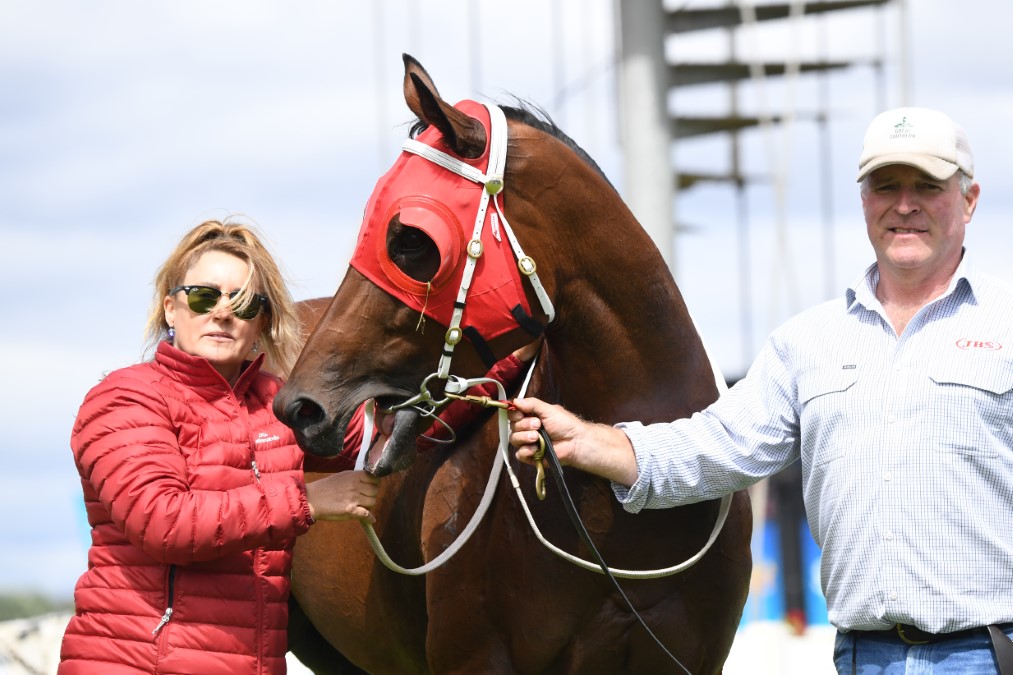 Impeccably bred Haystacks Calhoun is the newest addition to Danielle Chapman's stables at North Woodend, and he impressed with a fast finishing win at Ballarat last week.
Named after a towering American wrestler who weighed in at over 600lbs and spent nearly 20 years on the international scene, the three-year-old was beset with problems before being purchased by the Chapmans.
"He originally sold for $170,000, and had several preparations but there were shin soreness setbacks. He was gelded but other problems, including barrier behaviour, were also drawbacks," Chapman said.
"Steve (Danielle's husband) is always on the lookout for a good prospect, and he saw Haystacks Calhoun in an online sale.
He was a bargain basement buy, and had eight weeks' work under his belt at that stage.
"A promising third at a recent Kyneton jump out gave us hope, and he debuted last month for at Pakenham over 1000m, finishing third after missing the start by six lengths.
"He's a gentle horse, easy to train, and the whole family (all listed in the ownership) are excited."
In the $35,000 Maiden over 1150m at Ballarat, Haystacks Calhoun started at 16-1 and was slowly away, but experienced jockey Craig Newitt produced a masterly ride, gaining a split in the straight to edge out favourite Kasami in a tight finish.
Haystacks Calhoun is likely to have his next start at Ballarat later this month.
Chapman had to do some research on the horse's unusual name.
If the galloper lives up to his namesake, he will end up being a champion.
From the late 1950s to the early 1970s, Haystacks Calhoun was one of the 'big names' in world wrestling, his huge size often intimidating opponents.
A company selling king-sized beds even featured Haystacks and blonde bombshell actress Jayne Mansfield endorsing extra-firm mattresses!
BACK IN WORK
Lightly raced Snappy Magnus, a winner for the Chapmans on New Year's Day at Kyneton, is expected to be ready to race soon.
"He was galloped on at his last start at Flemington, and went for a five weeks spell. He's just come back into work," the trainer said.