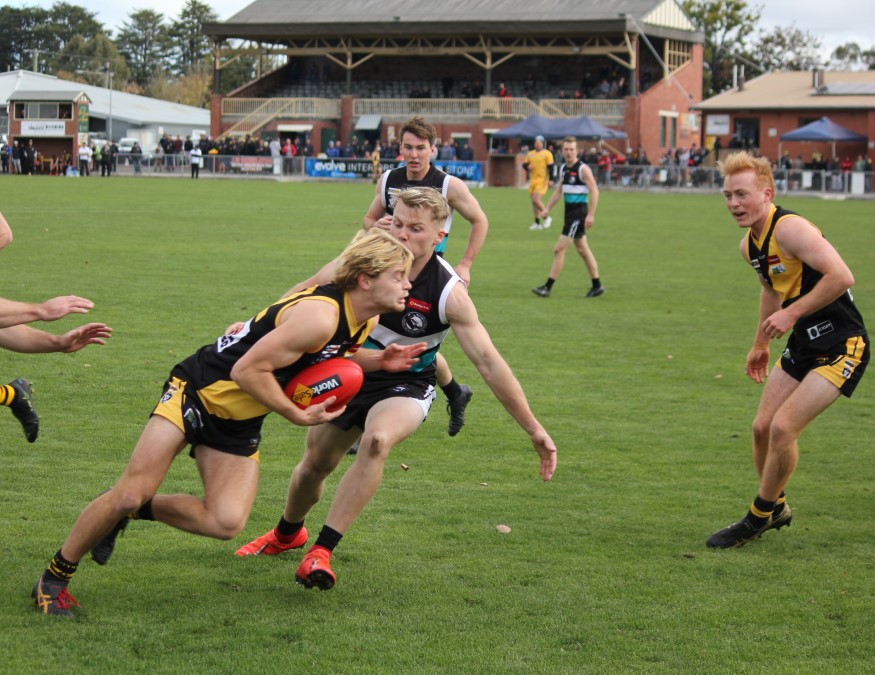 Kyneton and Maryborough have young, energetic senior football sides in the Bendigo League this season, and for three quarters on Saturday they were closely matched.
In a seesawing affair the Tigers led by four points at half time, and finished the match off with a seven-goals-to-three last term to win by 31 points — 17.13 to 12.12.
Talented youngsters Ben Cameron (five goals) Bailey McGee, Louis Thompson and Angus Nolte have been a revelation this season and were prominent once again.
With no U18s match, a large and parochial home crowd turned up at the Showgrounds to cheer on the Tigers in footy and netball.
Jordan Mangan again rucked strongly in the main match, and James Gaff, Guy Dickson and Sam Foreman turned in strong contributions.
The Tigers lifted all over the ground to dominate the last term, and look forward to the next match at Gisborne on May 29, after this weekend's break.
Maryborough reserves are having a tough time fielding enough players, and it showed as Kyneton raced to a 18.18 to 0.3 victory in the opening match.
The Kyneton side fielded a good mix of mature-age players and local youth; many U19s making their presence felt.
SENIOR WOMEN
With a weakened defence and several key players out, Kyneton's senior women's team faced a difficult task against second on the ladder Bendigo Thunder.
The girls held on in the first half, and two goals from Heidi Erasmus lifted their prospects.
With no bench players, the Tigers understandably faded and the Thunder took full control to win well.
A special mention for Natalie Korinfsky, who played her 50th game for the Tigers.
NETBALL ROUND-UP
There was one close netball match, with Kyneton A-graders having to withstand a late surge by Maryborough.
The Tigers were keen to play, opening up a 10-goal break at the last change.
Maryborough rallied, and unforced errors left Kyneton hanging on grimly for a 44-42 victory.
Tegan Beckerley was best on court, with attacking drives to the goal circle.
A spate of injuries have impacted on the Tigers' depth across the grades.
Baylee Eve looks to be sidelined for the rest of the season, and the U17s goal circle had a welcome inclusion in captain Jazzy Chambers.
Talia Chambers was best for the second match in a row, her game highlighted by spot-on passing as Maryborough prevailed 36-18.
Despite their two captains out injured, the B Reserve girls battled hard with Meg Norman and Alayne Burns under pressure in defence. Darby Kelly, best o court, Saffron Moody and Juliette moved well through mid-court and Ester McIntyre was welcomed back.
Kirsty Draper and Tahlia Levitzke showed promise from limited chances in the goal ring, with the visitors winning 43-20.
The B-grade defenders kept Maryborough honest, and the team welcomed back Dani Bourke (50th game) as a reliable goal shooter.
April Sims was best on court, and the B graders are showing continuous improvement, despite a 56-26 scoreline. There are promising signs for later in the season.