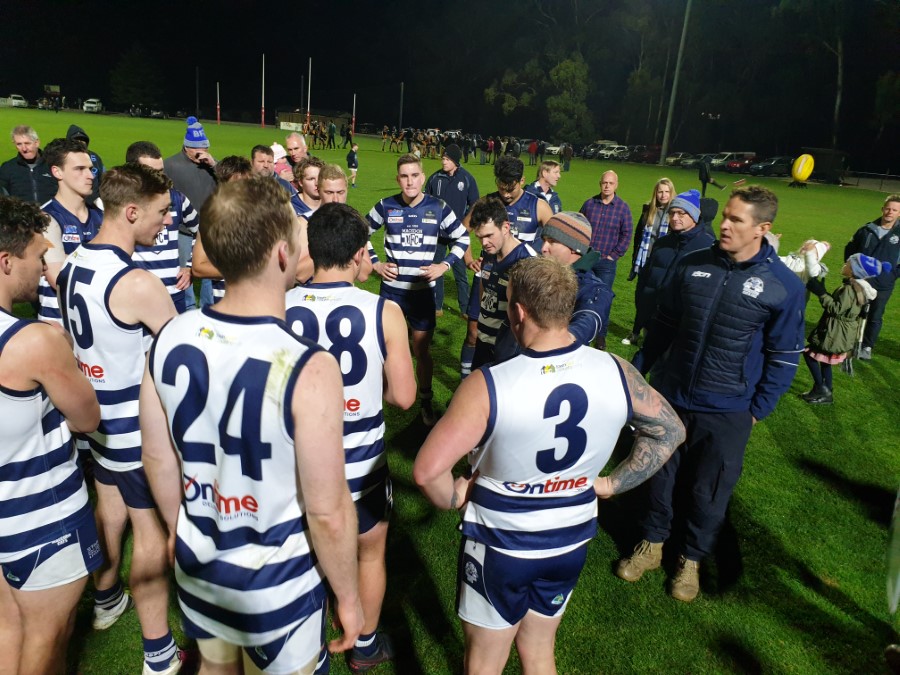 Six rounds down, and 12 to go before the Riddell League finals. This Saturday's match of the round is at Wallan, with top spot on the ladder at stake as unbeaten Riddell faces up to the super confident Magpies.
Shockwaves went through finals contenders on Saturday as Wallan produced an awesome display to thrash former powerhouse Diggers Rest by 138 points. And this was at Diggers Rest, normally a fortress for visiting sides.

Matt Perri kicked more than 100 goals for the Magpies last season, and led the way with eight as the Magpies ran riot to kick 28 goals – unheard of against a side with the credentials of Diggers Rest, which still has plenty of 'name' players on its list.
Close losses to Macedon and Riddell may have been dismissed, but there must now be serious concerns about whether Diggers Rest can recapture the glory days.

Riddell's astute coach Justin Belleville sees his side improving each round, and the bye last weekend after impressive lead-up form has given the Bombers plenty of confidence.
With a final five this season, obtaining top spot will be a decided advantage.
The biggest crowd of the season is expected to turn out at Greenhill Reserve, and Wallan's quality duo in Jesse Davies (former Bowen Medal winner) and Steve Boyall will be out to show why they joined the Magpies this season.
MACEDON, ROMSEY BACK ON TRACK

Macedon (third on the ladder) shook off the narrow last round defeat at Woodend by smoothly accounting for Lancefield by 85 points under lights at Tony Clarke Reserve.
Seven goals to a point in the first term put the Tigers on the back foot, and the Cats showed their depth to win by 85 points.
Ryan Fischer, Dave Morrice and Jordan Dyer were listed as the Cats' best in an even performance, while Tom Kearney, James Newell and Luke Fellows did well for the Tigers who found the home side's greater depth of talent hard to overcome.

Romsey coach Paul Kennedy felt his side – fourth on the ladder – would benefit by a "freshen up" after their loss to Riddell, and this proved to be the case.
The Redbacks were able to run away from Melton Centrals in the last quarter with six goals to one, and a margin of 52 points.
Nathan Blair again showed his versatility and leadership qualities, and the Redbacks are looking forward to being at home to Western Rams on Saturday.
A big match coming up between Macedon and Romsey on June 5.
SHOCK FOR HAWKS

Coming off the great win against Macedon, Woodend-Hesket was expected by most to have a percentage builder against the Rams.
The shock was the Rams did not subscribe to this prediction, and showed their best form to lead at half time by eight points, with the off-target Hawks having just two goals on the board at this stage.

The third term saw a Hawks' revival with five goals to nil, but a 7.17 winning scoreline against the bottom side was not wonderful leading into Saturday's match against Lancefield.
Woodend-Hesket had topliners in Tom Gawthrop, Wayne Patak and Jesse Sheppard on the sidelines.
Top recruit Rory Alexander returned to action, and with captain Alistair Rae, kicked three goals apiece and stood up when it mattered. Dean Bramley was best for the Hawks.

Seventh round matches on Saturday are:
Woodend-Hesket v Lancefield.
Melton Centrals v Macedon.
Wallan v Riddell.
Romsey v Western Rams.
Diggers Rest the bye.