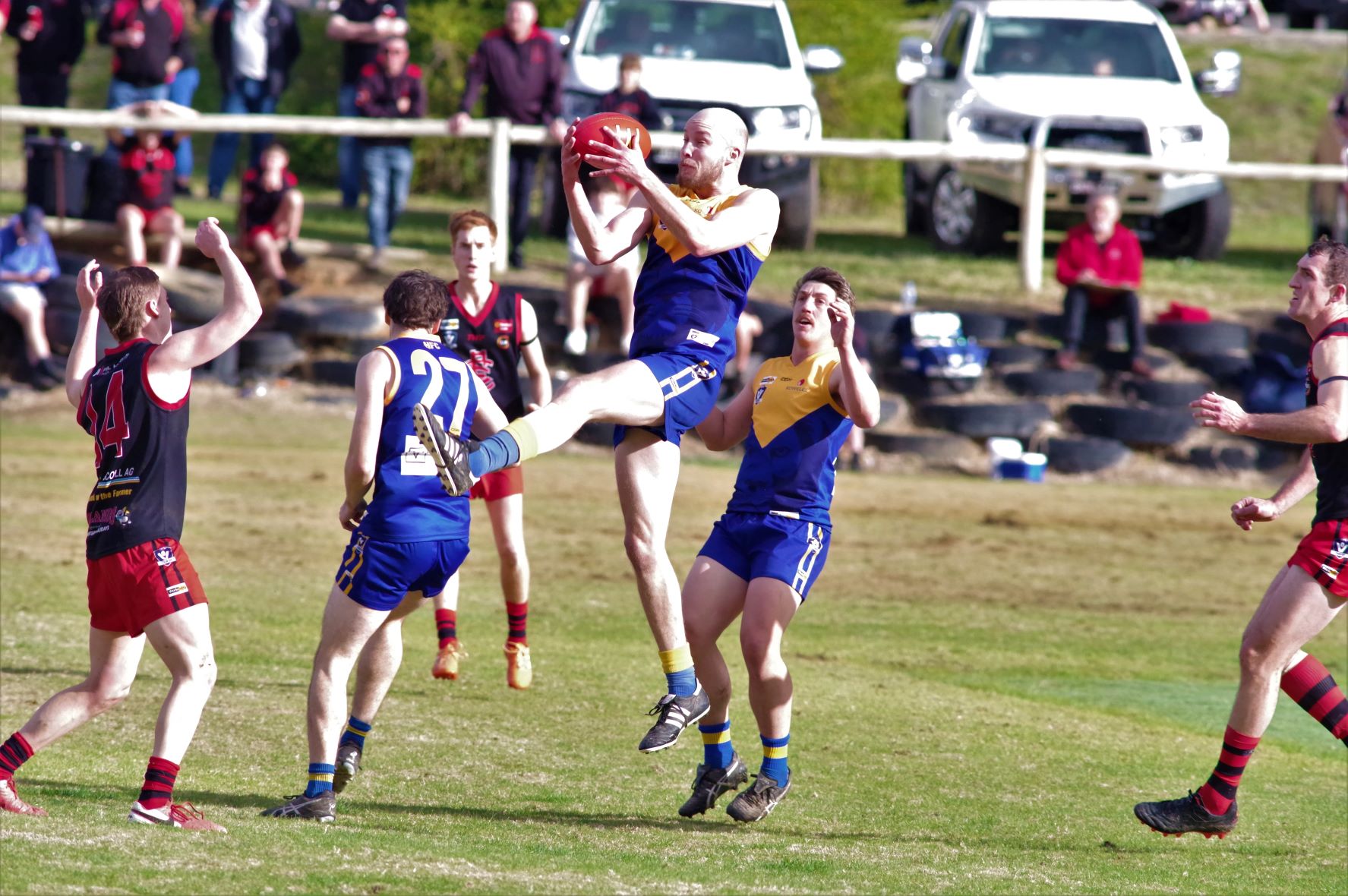 Harcourt played host to Carisbrook last Saturday at the den in Maryborough Castlemaine District Football Netball Association round eight action.

The Lions were determined to continue their form after a fantastic win over Maldon in round seven.

The home side made a great start, kicking three unanswered goals in the first term to four points and leaving the Redbacks shellshocked.

The visitors recovered in the second term, booting six goals to the Lions three and trailed by just four points at half-time.

An even third term followed as both sides grappled for ascendency. Carisbrook managed to peg through two more goals and the Lions one to see the Brook edge in front by two points at the final change.

The final term saw both sides throw everything they had into the contest, but in the end the Redbacks proved to be more accurate in front of goal kicking six goals to the Lions 3.4 to win by 16 points.

Final scores Harcourt 3.3, 7.4, 8.7, 11.11 (77) to Carisbrook 0.4, 6.6, 8.9, 14.9 (93).

Best for Harcourt were Darby Semmens, Cameron Anderson, Jed Rodda, Lachlan Mitchell, Kristian Bruce, Bryce Frost.
Maldon had another tough day out going down to Lexton.

Maldon got the jump on the Tigers early and held the lead until after half time. However, the Tigers found something extra in the second half of the game and ended up running out winners by 31 points.

Final scores Maldon 6.9 (45) to Lexton 10.12 (72).

Best for Maldon were Hayden Kelly, Alex Farrow, Matthew Gray, Billy Johns, Douglas Gray and Rhys Ford.

Newstead made the trek to Hedges Oval to take on Royal Park and had a top day out recording a 49 point victory.

The Steaders opened with a four goal first term while holding the Tigers to just one goal.

The second quarter was more of an arm-wrestle with both sides kicking three goals each. But after half-time the Roos upped the ante and went on to kick another 4.6 to two points to secure a comfortable win.
Final scores Newstead 11.9 (75) to Royal Park 4.2 (26).

Best for Newstead were Cordie Mckendry, Aidan McConachy, Joel Smith, Anthony Robins, Harrison Harbrow and Nathan Black.

Campbells Creek played host to an in-form Navarre and despite their best efforts once again went down by a big margin. Final scores Campbells Creek 1.3 (15) to Navarre 12.16 (178).

Best for the Creekers were Matthew Manning, Kristopher Bagley, Dylan Stevens, Mitchell Stevens, Lachlan Hyland and Joel Wootton.

In other matches Avoca def Natte Bealiba and Dunolly accounted for Talbot.
Netball
In A Grade netball contests Harcourt 61 defeated Caribrook 39, Maldon 39 lost to Lexton 70, Newstead 53 defeated Royal Park 34, Campbells Creek 54 had a great win over Navarre 49, Avoca 59 def Natte Bealiba 50 and Dunolly 71 def Talbot 42.
This weekend
In Round 9 contests this weekend, Maldon hosts Avoca, Newstead welcomes Natte Bealiba, Campbells Creek travels to Hedges Oval to face Royal Park, Harcourt makes the trek to Trentham, Carisbrook v Lexton, Talbot takes on Maryborough Rovers and Navarre v Dunolly.