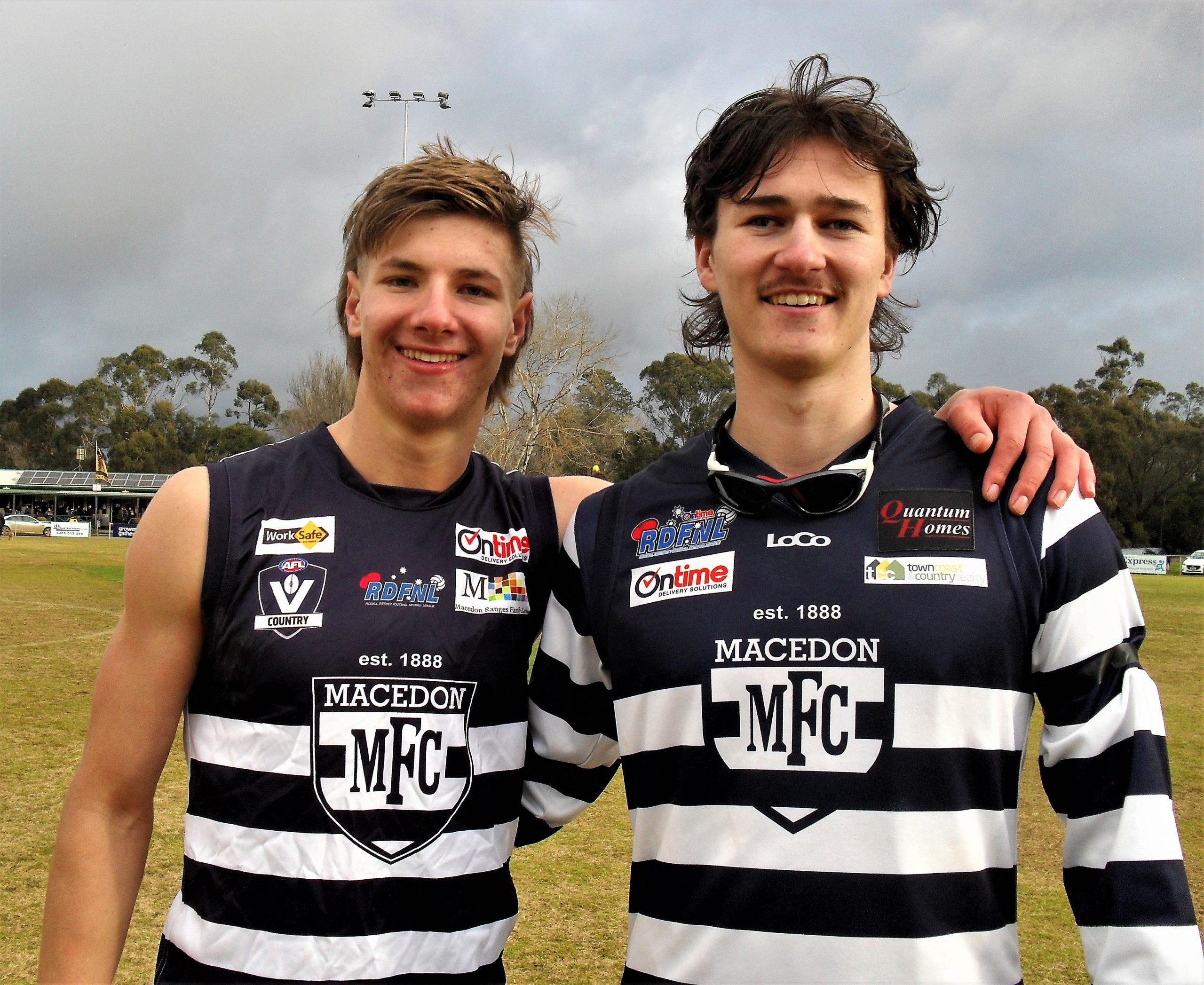 Bill West
In a match that may have decided which of two neighbouring sides plays Riddell League finals, it was a determined Macedon that seized the initiative against Woodend-Hesket in the third quarter on Saturday, eventually winning by four goals.

The Cats had a last-minute coaching hiccup, with Wayne Sanders (Reserves coach) thrust into the hot seat at very short notice when senior coach Al Meldrum was sidelined with symptoms resembling food poisoning.

Sanders was elated after the match, describing the outcome at Gilbert Gordon Oval as "a fantastic win" with the Cats taking some important steps forward after being dominated by Diggers Rest seven days earlier.

Woodend-Hesket players wore the famous red and white colours of the former Hesket FC, as 19 players from the Hawks' 2002 premiership side coached by Denis Barker attended a 20-year reunion.

It is the second time this season Macedon has toppled the Hawks, now sixth and needing almost a miracle to make the finals.

Inability to score sufficient goals weighted heavily on the Hawks for most of the first half; two quick goals cut the deficit to 13 points at the long break.

Hawks' coach Josh Pound wanted his side to lift, but it was Macedon that broke away and kicked four goals in succession in the third term – two came from 17-year-old Alec McGregor playing in his first senior game.

Hit hard by injuries to key personnel, the Cats have been forced to give more young players their chance at the top level.

As Sanders said, Macedon dominated for 22 minutes in the third term to lead by almost seven goals, then the Hawks slammed on three majors to revive hopes.

Kicking with the aid of a breeze, Woodend-Hesket's big men, Tayte Pears and Tom Gawthorpe, nailed two goals early in the last term and it was "game on".

A stalemate ensued for a period before the irrepressible Jason Cooke kicked his fourth goal on the run, and Matt Knox quickly managed another to put the match beyond the Hawks' reach.

Strong and consistent Dave Morrice and big ruckman Jordan Dyer were among those praised by Sanders for exceptional efforts.

This Saturday, the fourth-placed Cats welcome fifth-placed Romsey to Tony Clarke Reserve, while Woodend-Hesket has the daunting task of playing at Diggers Rest.

Macedon 3.5, 5.8, 10.11, 12.11 (83) d Woodend-Hesket 1.3, 3.7, 6.10, 8.11 (59).
Goals (M) – J. Cooke 4, A. McGregor, M. Knox 2, T. Pridgeon, T. Sims, E. Morrissey, J. Kernana.
Best – D. Morrice, J. Dyer, Z. Baggs, Sims, J. Kernan, J. Barnett, P. Doyle.
Goals W-H) – T. Pears 4, T. Gawthrop 2, J. Pound, J. Arceri.
Best – D. Bramley, T. O'Loughlin, H. Giddings, T. Duff-Tytler, B. Toman, Arceri.
RIDDELL JUST MISS
In the battle for top spot, Riddell led by eight points at half-time in a low-scoring match contest against Diggers Rest at Bomberland.

Both sides were desperate, and in a tight last term both sides managed two goals apiece.

Keeping in-form forward Tim Walsh to just one goal was significant for Diggers Rest in the final analysis.

It would certainly be no surprise to see these sides in the 2022 grand final.

Diggers Rest 9.7 (61) d Riddell 8.7 (55).
Goals (R) – L. Berry 4, T. Walsh, N. Croft, T. Stead, J. Lanyon.
Best – B. Sonagan. T. Alkemade, J. Grabham, S. Treweek, Berry, R. Paterson.

Melton Centrals turned in one of their best performances to account for Lancefield 16.13 (109) to 5.6 (36).
Goals (L) B. Crowhurst, S. Da Riva, H. Taylor, M. Bowden, T. Atwell.
Best – J. Dalgleish, M. Conlan, L. Fellows, Da Riva, Taylor, A. Simpson.by 83 points.

In the remaining match, third-placed Wallan went on a 32.25 (217) rampage over Western Rams 1.2 (8).
Senior ladder: Diggers Rest 48, Riddell 44, Wallan 42, Macedon 32, Romsey 32, Woodend-Hesket 26, Melton Centrals 16, Lancefield 12, Western Rams 8.