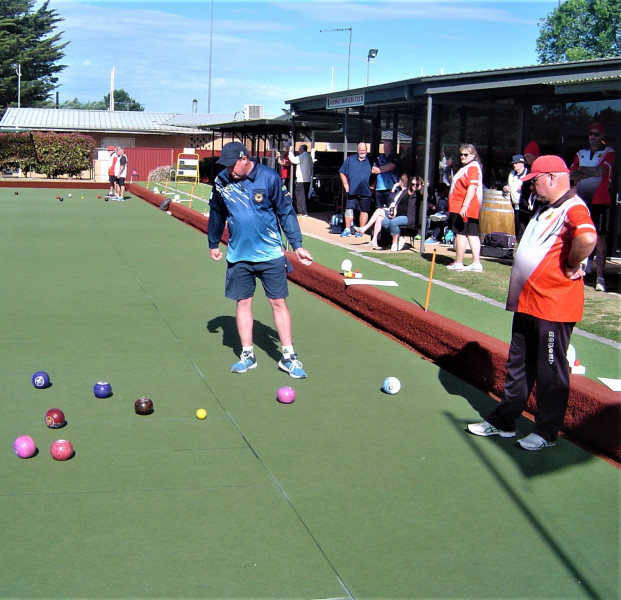 Kilmore injected fresh life into Highlands division one pennant bowls by toppling previously unbeaten Romsey by five shots in a dramatic finish.
Having recruited strongly pre-season, the Redbacks anticipated winning at home particularly as Kilmore had lost heavily to Kyneton and then scrambled home against Lancefield in their last two outings.
Romsey was without regular skipper Matt Brundell, with Kilmore missing counterpart Matt McMaster. A gusty wind created problems for some players.
Scores were level at the half-time interval, and it was Kilmore that surged ahead to open up an overall lead of 12 shots, with all three fours leading.
As good sides do, Romsey fought back as tension built and the outcome all hinged on the last three ends on the Cam Austin (Romsey) versus Daniel Noonan encounter.
Noonan, a long-time noted driver, was undeterred and continued to send down rockets. A fortuitous delivery resulted in a '4' for Kilmore, and the elated visitors gained singles on the last two ends to end up 22-15 and secure an overall 58-53 result.
The other two rinks were extremely close, Romsey's Aaron Young finishing two shots up on John Reimann, and Graham Edwards tieing 20-20 with Travis Bradley.
This Saturday Romsey go to Kyneton with plenty of incentive to get back on the winners' list. Kyneton slipped from top spot on the ladder when well beaten by 19 shots at Lancefield. The Tigers turned in a welcome form reversal, with Jeff Holmes and co. Leading the way with a margin of 21 shots against Mark Smoljo.
Neil Jamieson's Kyneton rink prevented a clean sweep.
Kyneton Golf moved to top spot on the ladder after four rounds with an all fours up victory at Trentham and an overall margin of 18 shots.
Gisborne also secured maximum points, up 17 shots at Diggers Rest.
The highlight in division two was a tie between Diggers Rest and Gisborne.
Macedon, with Ian Guymer's rink supreme with a margin of 39 shots, had the biggest win of the round (59 shots overall) against Broadford.
At home, Kyneton had 24 shots to spare against Woodend, with John Wells finding the right formula to be up by 24.
Kilmore is hard to topple at home, and eclipsed Romsey by eight shots.
In division three, Romsey won two rinks but went down overall by 16 shots as Lancefield skipper Geoff Stewart continued his fine form and received some help from his accomplices.
The two Gisborne sides had a relatively close battle, with the margin nine shots overall, and Trentham prevailed by 20 shots at home to Macedon.
ALL THE SCORES
Division one fourth round scores on Saturday were:
Romsey 53 lost to Kilmore 58: G. Edwards 20 tied with T. Bradley 20, C. Austin 15 lost to D. Noonan 22, A. Young 18 d J. Reimann 16.
Trentham 47 lost to Kyneton Golf 65: R. Dobinson 15 lost to A. Plowman 17, C. McKeone 17 lost to B. Godbolt 25, B. Mahar 15 lost to P. Linehan 23.
Lancefield 65 d Kyneton 46: B. Holmes 15 lost to N. Jamieson 21, A. Andrews 19 d A. Mathison 15, J. Holmes 31 d M. Smoljo 10.
Gisborne 66 d Diggers Rest 49: A. Higgins 18 d D. Odgers 17, D. Beardmore 24 d B. Reidy 18, P. Williams 22 d R. Treweek 14.
DIVISION 2
Kyneton 74 d Woodend 50: D. Fisher 23 d N. Bickerdyke 14, M. Bermingham 15 lost to S. Pickles 23, J. Wells 36 d M. Dornau 12.
Macedon 90 d Broadford 31: R. Stapleton 24 d Broadford 31:G. Dickenson 22 d W. Blackburn 11, I. Guymer 44 d P. Hoskins 5.
Diggers Rest 62 drew wih Gisborne 62: A. Icely 18 lost to B. Wylie 21, S. Browne 14 lost to D. Wesney 30, R. Beckett 30 d R. Newton 11.
Kilmore 64 d Romsey 56: G. Williams 23d N. Tessari 17, A. Langdon 20 d A. Laing 15, L. Hodgson 21 lost to G. Gilligan 24.
DIVISION 3
Trentham 63 d Macedon 43: I. Bruton 20 d B. Swan 13, M. Hinneberg 25 d M. Cameron 11, G. Laurie 18 lost to B. Wasyl 19.
Gisborne (4) 55 lost to Gisborne (3) 64: P. Wellington 29 d F. Roche 16, F. Perich 10 lost to C. Butterley 27; J. Hunter 16 lost to T. Woodlock 21. Romsey 54 lost to Lancefield 70: D. Culpan 19 d J. Smith 16, C. Dean 23 d D. Safstrom 12, J. Boyce 12 lost to G. Stewart 42.