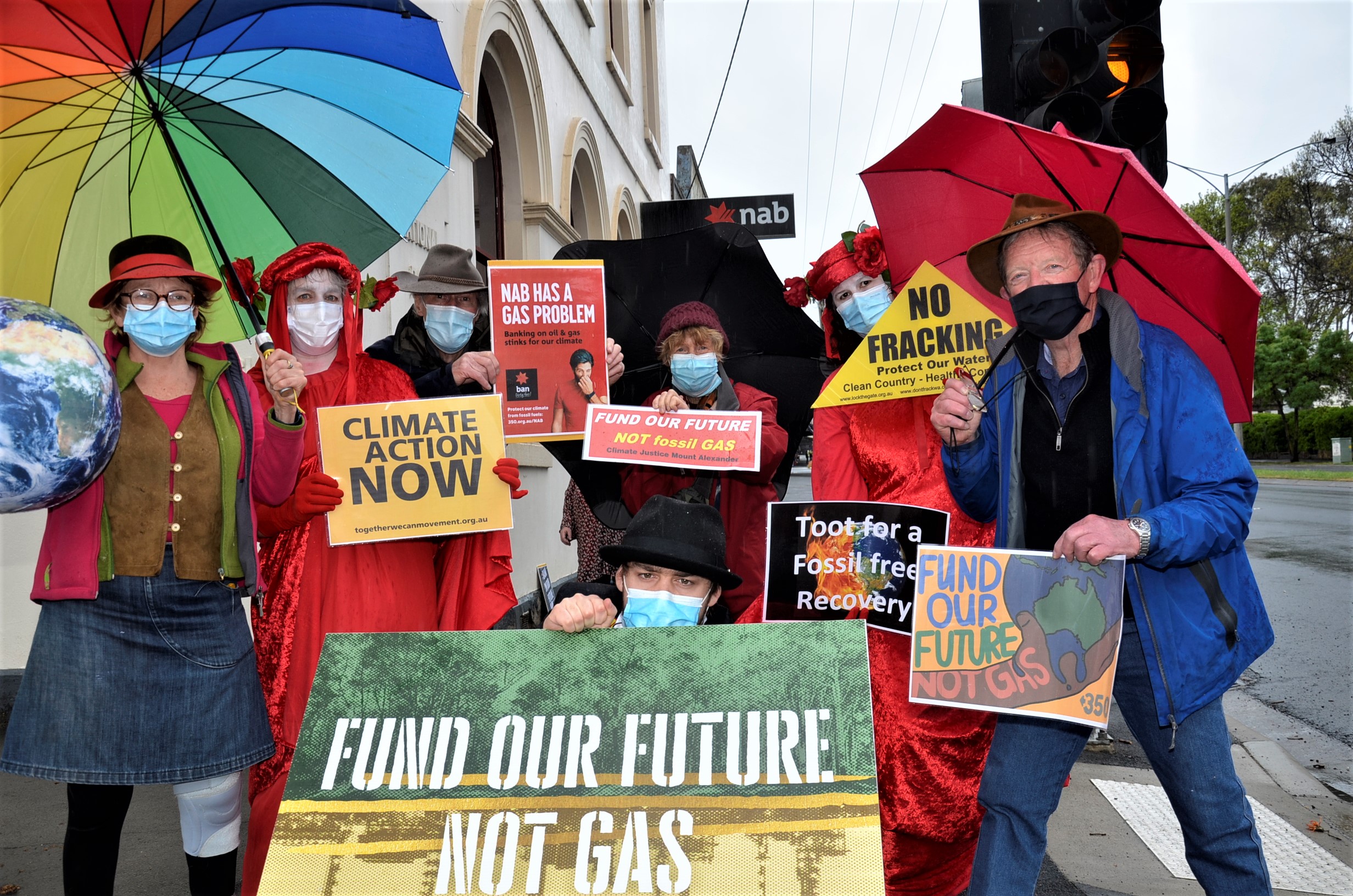 They stood out a proverbial country mile against Friday's grey, rainy sky.

The group of demonstrators stationed out front of Castlemaine's National Australia Bank may have been small in number – due to COVID-compliance – but was just as big on determination.

"We're just ordinary local citizens calling on the NAB to stop its investment of literally billions of dollars in oil and gas fossil fuel projects," Castlemaine's Malcolm Robins said.

"Every child deserves to thrive in a safe climate but NAB is undermining our children's future by financing oil and gas companies during a climate crisis."

Part of 350.org's wider Adopt a Bank campaign, Friday's demonstration was motivated by a deep groundswell of community concern about the unthinkable prospect of runaway climate change and its projected impacts on agriculture, extreme weather events, natural disaster frequency and the economy.

Mr Robins said Friday's was the first in an ongoing series of planned local demonstrations and joined others nationwide.
"I'm running a local campaign on behalf of 350.0rg and we're now moving the campaign onto the next phase which is a physical presence," he said.

"We are COVID-safe and we are not touching any item of bank property.

"The bottom line is that right now, the NAB board is making a decision about whether to continue to invest in oil and gas.

"With enough public pressure, we can pressure the NAB Board and CEO Ross McEwan to make the right call."

The Castlemaine demonstrators stationed themselves outside the bank from 10am to 12.30am on Friday.

They told the Midland Express that come rain or shine they'll be back, same time, same place this Friday as well.

"NAB likes to talk up its actions to tackle climate change but in reality it's greenwash and they're continuing to fund climate destruction," Mr Robins said.

"Between 2016 and 2019 NAB lent more than $1 billion to projects that expand the polluting gas industry, risking local communities, our climate and our future.

"This demonstration at the front of the bank is the first in a series of three.

"We'll be back again next Friday October 8 and we'll also be back on October 15 when we will be joining with the next School Strike for Climate event on that day."