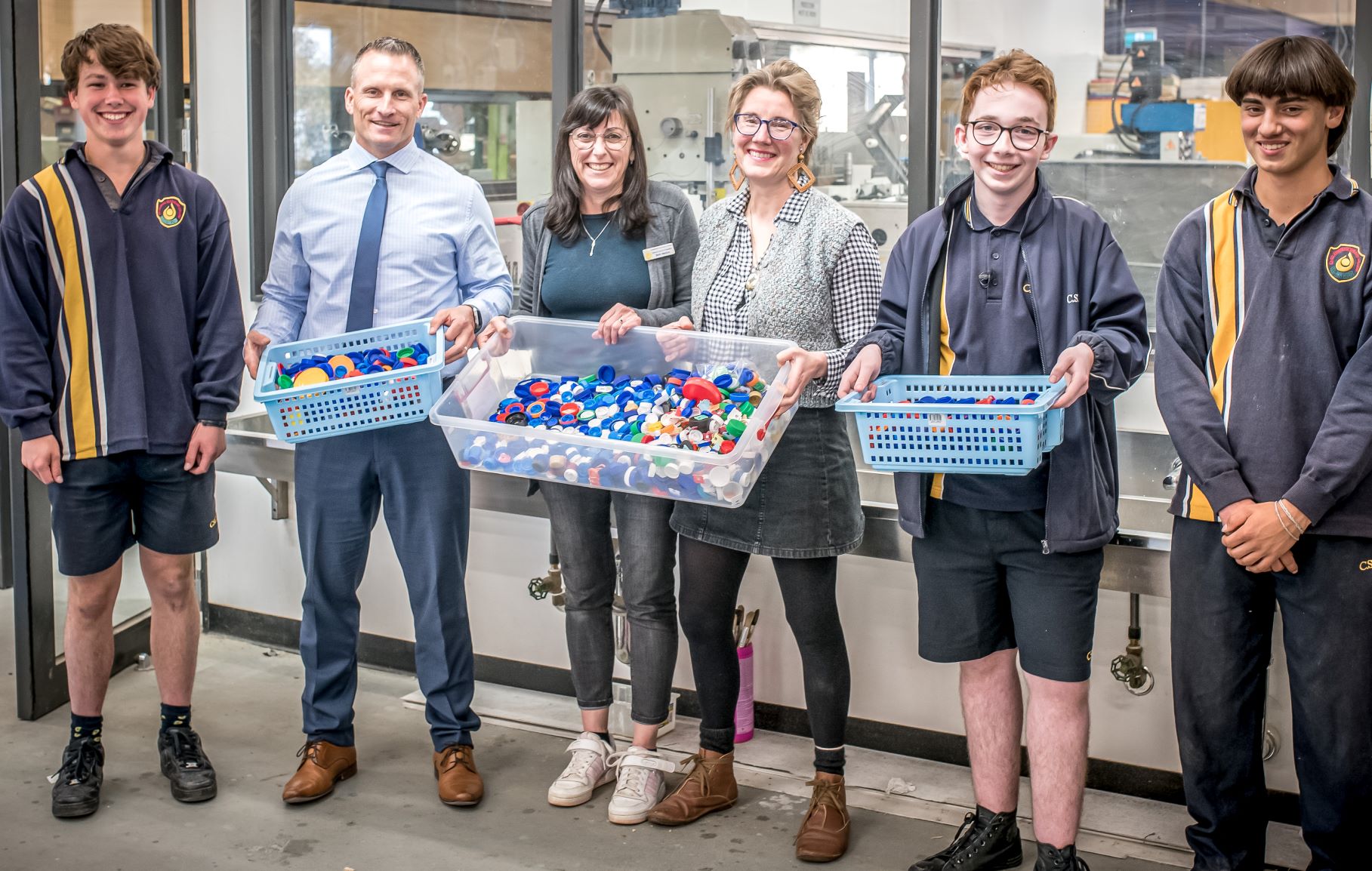 Castlemaine Secondary College has teamed up with The Good Op Shop on an exciting environmental project – reusing plastic bottle lids.

The Good Op Shop, a local charity that sells secondhand goods to raise money for conservation projects, is keen to fund new ways to reuse waste that was destined for landfill, especially among school children and youth.

This project needs to raise $15,000 to buy two machines for the local high school to shred plastic bottle lids; heat the shredded plastic and then pour it into moulds to make new products, such as hair combs, USB sticks or plant pots. The plastic found in many of our everyday products can be used over and over again.

The Good Op Shop co-director Tinnfany Inglis said this was an exciting step to be taking with the school.

"We'd love to see the school make products that the students can sell, and then use any profits they make to buy new product moulds to keep making more and more products, and as such, they've created a circular economy and kept more out of landfill," she said.

CSC school council president Beth Mellick is working with The Good Op Shop to help students and staff set up a space in the school where the lids will be sorted, cleaned and prepared, ready for reuse in the machines.

"It's a terrific project that all year levels can participate in. Once we have the machines to start making products from the lids, the students will be able to get hands on experience with re-purposing resources. They will also get to learn about product design, technology, marketing, and finances," Beth said.

A team of students who went on a leadership camp recently are leading the project and have arranged collection points for the lids at The Good Op Shop, Castlemaine Secondary College, and at the Mount Alexander Shire Council office.

Students will start collecting and processing the lids on site at the school in the new year.

The next step is to purchase the two machines. The Good Op Shop has created a MyCause campaign online to fundraise for the machines – the campaign has raised $2,250 so far.

Tiffany recently participated in the Loddon Murray Community Leadership Program and was awarded $3000 towards the project via a generous donation by the Hugh Williamson Foundation.

"We'd be so grateful if anyone can help to set up the next generation to learn, take part in and benefit from recycling," Tiffany said.

"We hope this project will inspire young people and their families to find ways to recycle other materials and tackle the problems we don't yet know how to fix."

If you would like to help support this cause you can donate online at www.mycause.com.au/page/299713/the-next-generation-recycling