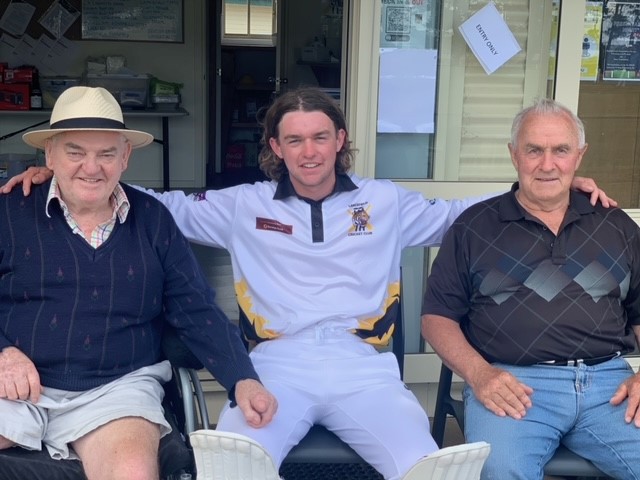 For a 17-year-old Lancefield cricketer, his first century on Saturday is a personal sporting achievement he will never forget.
Callum Sankey, listed to bat at number four against Sunbury United in the division two match in Lancefield Park, was stunned to find he was at the crease and facing a hat-trick on the third ball of the match.
United speedster Steve James dismissed Lancefield's Jack Morgan and Alan Sinclair with his first two deliveries, both snicking catches to the keeper.
Sankey survived the hat-trick, then soon settled in with experienced campaigner Mark Caton to add 137 runs before the latter departed for 57.
By this time the teenager was displaying a wide array of shots, and running hard between the wickets. He provided a difficult chance to the gully fieldsman on 85, otherwise the century was chanceless. He retired on 102 (10 fours) as the Tigers finished with a healthy 6/214c.c. from 35 overs on the big ground.
What had made it extra special for Callum was the two avid spectators, both aged 81, watching every shot he played and providing plenty of verbal encouragement.
They were his grandfathers, Tom Sankey – a legendary Gisborne sportsman – and lifetime Lancefield resident and retired sawmiller Terry Connors, who follows various sports.
A truly outstanding footballer, Tom Sankey is the only player to have won a record four Bowen Medals for fairest and best in the Riddell League; and he shone as a cricketer for Gisborne as well with bat and ball and behind the stumps — so much so that he still plays cricket with the Victorian Over 70s side, with an occasional game with the Over 60s as well.
Now living in Lancefield, Tom recalls when he began playing as a 12-year-old, always retaining the urge to be competitive.
"It took me 20 years to make my first and only century (for Gisborne 1 against Gisborne 2) and I've played hundreds of matches, now Callum's done it at 17 so he's got plenty of chances ahead of him.
Tom also recalls being "robbed" of a second century when he was 99 not out and the captain declared in a match between Gisborne and Werribee fire brigades.
Callum, an apprentice plumber, seemingly has plenty of improvement ahead on both the cricket and football fields.
Parents Shane – past president of LCC and also a century maker who believed in quick scoring – and Kylie were equally as pleased as Tom and Terry.
Sunbury United batsmen floundered in the run chase, being bundled out for 48 as Tigers' coach Matt Bowden captured 4-10 with the new ball.
Footnote: In Club South on Saturday, opening bat Peter Sankey made 101 (18 fours, two sixes) before retiring as Gisborne compiled a winning 5/189.c.c. against Melton Centrals Red.