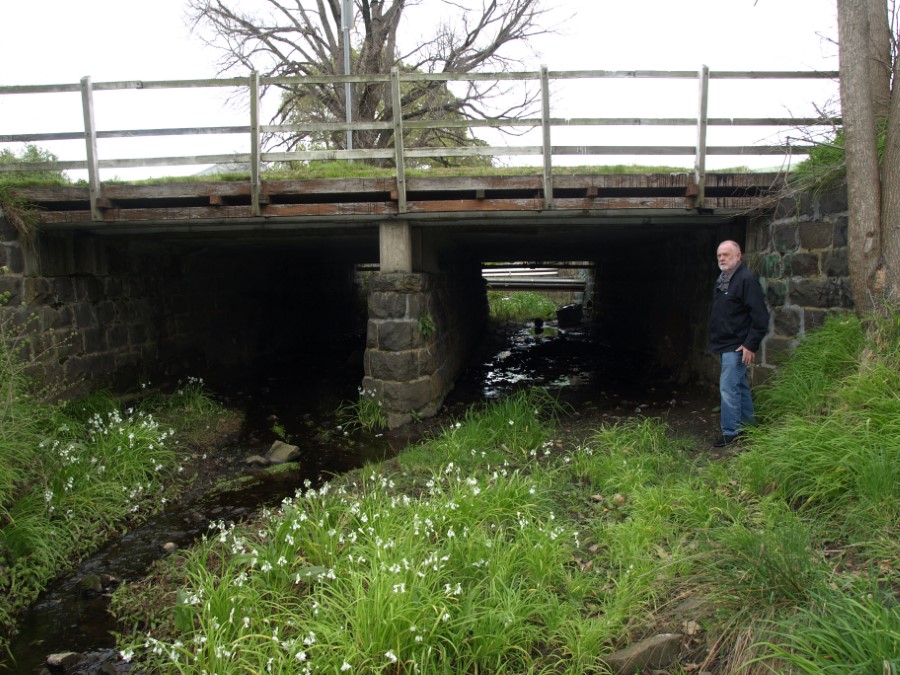 The fight to protect Gisborne's Bunjil Creek bridge, bluestone channel and significant trees will progress to an independent planning panel.
Last week Macedon Ranges Council revealed the Department of Transport had denied any heritage value of these features that are threatened as intersection works on Kilmore Road continue.
The $12.5 million upgrade was a Labor election promise aiming to improve traffic flow and pedestrian crossings.
Council strategic planner Leanne Khan told councillors the department was the sole objector to a heritage overlay planned for the site that would provide protection.
"It was on the grounds that the department had undertaken its own heritage assessment, which does not identify heritage value on the bridge channel or surrounding trees," she said.
Earlier this year, Regional Roads Victoria reneged on an in-principle agreement with the council to protect the bridge, channel and trees.
RRV stated a 'bridge over bridge' solution was no longer viable due to ground conditions and flood risks.
Seven other submissions supported the heritage overlay plan. The Gisborne and Mount Macedon Districts Historical Society gave heavy endorsement.
The historical society submitted a proposal to protect the bridge. It suggested using a series of concrete encased pilings on which a steel structure could be built to support the road base to keep the bluestone intact.
At last week's council meeting, Cr Rob Guthrie said this option and others "should be seriously considered".
FLOOD STUDY HISTORY
Cr Guthrie said council action in the past could have significantly improved flood risk in Gisborne.
He said Macedon Ranges Council adopted a flood study of Gisborne in 2006 to be implemented into the planning scheme. But he stated that it never was.
"It recommended a number of actions including a retarding basin above Fersfield Road. We purchased the land – nothing's been done about it. No retarding basin," he said.
"There is potential that during a flood event, flood waters can build up behind Howey Street and that the embankment may fail. This could have devastating consequences.
"The study recommended that the council work with Melbourne Water to initiate investigation to assess the actual level of risk of failure. Fifteen years later, I can't see that anything has been done about that, which concerns me immensely.
"If we had have done these works, the risk of flooding would be greatly reduced."
Cr Guthrie said progressing heritage protection was important and that there was "often an engineering solution". He said the council should also carry out the works in the flood study.
Other thoughts were also aired at the meeting including Cr Geoff Neil's suggestion to relocate the bridge and channel.
Councillors voted to progress the heritage protection to an independent planning panel at the first available date.